US' inspector general for Afghanistan warns against Ukraine aid 'wastage'
Washington has been the largest financial contributor to Ukraine in its conflict with Russia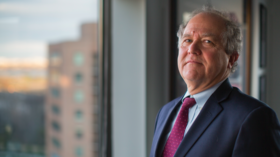 Robust safeguards must be in place to prevent fraud and corruption from undermining foreign aid packages to assist Ukraine in its conflict with Russia, according to John Sopko, the United States' Special Inspector General for Afghanistan Reconstruction (SIGAR).
Sopko, who was appointed to the role of overseeing the reconstruction of Afghanistan by the Obama administration in 2012 amid the United States' extended military presence in the country, admits that "significant mistakes" were made in Afghanistan's rebuilding – principally due to much of the funds allocated being "diverted or stolen."
And Sopko predicts that a failure to learn from these mistakes might severely limit the impact of foreign assistance to Ukraine.
"The very worst outcome is that the assistance gets diverted, stolen in such a way that it doesn't accomplish its intended purpose – in this case, providing Ukrainians with the weapons and the money to win their war against the aggressor, Russia," he said to Fox News.
"You're bound to get wastage," he explained. "You're bound to get corrupt elements of not only the Ukrainian or host government, but also of US government contractors or other third-party contractors to steal the money."
He added that without the necessary oversight "the average Ukrainian will see the waste" rather than the intended impact of the aid and this could lead to a loss of support for Kiev's and Washington's measures. He cited similar experiences in Afghanistan, where he concluded that Afghan soldiers and police officers lost confidence in their government after first-hand observations of corruption.
The United States has continued to increase its aid packages to Ukraine in recent months. On Friday, the one-year anniversary of the launch of Moscow's military operation in the country, the US announced a further aid package of $2 billion and imposed further sanctions and tariff increases on Moscow. In 2022, the Biden administration rubber-stamped more than $112 billion in financial assistance for Kiev.
Last month, Washington revealed plans for an oversight committee to track the assets sent to Ukraine – an exercise Sopko said would be akin to "herding cats." Figures within the US Congress have also called for a special inspector to be appointed to oversee Ukraine aid. It was reported last month that Ukrainian leader Vladimir Zelensky had fired government officials found to have been engaging in bribery and corruption.
You can share this story on social media: