US spending more on Ukraine than in Afghanistan – report
Washington's military aid to Kiev exceeds its annual outlays to fight America's longest-ever war, a Statista analysis has shown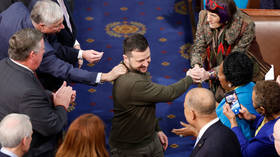 President Joe Biden's administration has shelled out more money on military aid to help Ukraine fight Russia than the US spent annually to fight its own war in Afghanistan, according to data compiled by German research firm Statista.
US military aid to Ukraine through mid-January, spanning the first 11 months of the conflict, totaled $46.6 billion, Statista said in a report this week, citing data from the Kiel Institute for the World Economy. That compared with an average annual military spend of $43.4 billion, in 2022 dollars, during the first ten years of the Afghanistan war.
"When calculating the average annual costs of previous wars in which the United States has been involved in, the true magnitude of the country's Ukraine aid expenditure can be seen," Statista data journalist Martin Armstrong said. The Ukraine total doesn't include an additional $5 billion worth of weapons and equipment that the Pentagon sent to Kiev, he said.
The figures also exclude non-military aid, such as the $4.5 billion that Biden pledged to fund pensions, government salary and other public spending. All told, Washington has allocated $113 billion in Ukraine aid, and multiple administration officials have vowed to keep supporting Kiev "as long as it takes."
Some Washington lawmakers, such as Representatives Seth Moulton of Massachusetts, a Democrat, and Georgia Republican Marjorie Taylor Greene, have called the Ukraine crisis a "proxy war" that the US and NATO are waging against Russia. Remarkably, even without officially deploying any troops in Ukraine or declaring itself a direct party to the conflict, the US is spending more than it doled out to fund its own war – in fact, the longest war in the nation's history.
When converted to 2022 dollars, US military spending was far higher in Vietnam, averaging $90.9 billion from 1965 to 1975; Iraq, totaling $125.1 billion per year from 2003 to 2010; and Korea, where the annual rate was $138.2 billion from 1950 to 1953.
US Republican lawmakers, who won control of the Lower House in last November's midterm elections, have called for tougher oversight of Washington's aid to Ukraine. Eleven Republicans introduced a bill earlier this month calling for an immediate halt to the aid program.
You can share this story on social media: