Republicans push to end Ukraine aid
The lawmakers argue that continued US military aid to Ukraine is "inadvertently contributing to civilian casualties"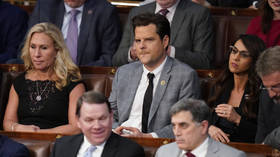 Republicans in Congress have introduced a resolution seeking to halt US aid to Ukraine, citing the massive cost to taxpayers, the risk of escalation with Moscow, and the toll on America's own arsenal after some $30 billion in arms transfers.
Led by Florida Rep. Matt Gaetz, 11 Republicans put forward the "Ukraine Fatigue Resolution" on Thursday, which states that Washington "must end its military and financial aid to Ukraine" while urging "all combatants to reach a peace agreement."
"President Joe Biden must have forgotten his prediction from March 2022, suggesting that arming Ukraine with military equipment will escalate the conflict to 'World War III,'" Gaetz said in a press release announcing the resolution. "We must suspend all foreign aid for the war in Ukraine and demand that all combatants in this conflict reach a peace agreement immediately."
Arguing that the United States is in a period of "managed decline," Gaetz said the problems will only get worse if the government continues to "hemorrhage taxpayer dollars" in a foreign conflict.
The resolution includes a list outlining the staggering American military largesse for Ukrainian forces since last year, stating that "munitions donated to Ukraine have severely depleted United States stockpiles, weakening United States readiness in the event of conflict." It went on to cite a recent report by the Center for Strategic and International Studies which found that, at the current rate of production, it will take more than 12 years to replenish the US stock of Javelin missiles, underscoring the strain on American arsenals.
Moreover, the lawmakers argued military support to Kiev was "inadvertently contributing to civilian casualties" on all sides, echoing previous comments from Gaetz, who has said the weapons would only "prolong the killing."
Long a vocal critic of US aid to Ukraine, Gaetz's resolution was joined by 10 Republican co-sponsors, among them Reps. Thomas Massie, Marjorie Taylor Greene, Lauren Boebert, Andy Biggs, Paul Gosar, Anna Paulina Luna, Mary Miller, Barry Moore, Ralph Norman and Matt Rosendale.
Though a growing number of House Republicans are increasingly wary of the aid – among them House Speaker Kevin McCarthy – senior lawmakers in the Senate have been more supportive. In December, Senate GOP Leader Mitch McConnell declared that "providing assistance for Ukrainians to defeat the Russians is the number one priority for the United States right now," claiming that view was broadly shared among the GOP.
You can share this story on social media: