Biden rules out trip to Ukraine
The US president says he may visit Poland, but he won't travel to Kiev to mark the anniversary of the ongoing conflict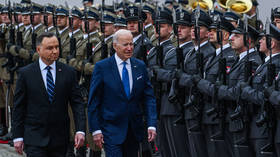 US President Joe Biden has confirmed that he's contemplating a trip to Poland as NATO members prepare to mark the one-year anniversary of the Russia-Ukraine conflict, but he won't be making a stop in Kiev.
Asked by a White House reporter on Thursday whether he may visit Ukraine in the foreseeable future, Biden replied, "There is a possibility that I can go to Poland, but that's all."
He added that he still hadn't finalized his travel plans, and said, "I haven't made a decision when I'm going to Poland or even if, for certain, I am going to Poland."
The president's comments came amid speculation that he would make a visit to Warsaw for the anniversary marking the beginning of Russia's military offensive against Ukraine on February 24. Polish officials claimed last week that Biden had already committed to making the trip at the invitation of President Andrzej Duda.
"We already know for sure that President Joe Biden will respond positively to President Duda's invitation and will come to Poland," said Marcin Przydacz, an adviser to Duda. "We have agreed with the American side that we will announce the date of the visit in due course, but I can assure that it will be sooner rather than later." He added that the visit would be "very important and crucial to continue supporting Poland's security."
Biden has reportedly been considering how to mark the anniversary of the Ukraine crisis and tout Kiev's resilience in defending against Russian forces. The White House is also aiming to signal solidarity with the Ukrainian people and unity among NATO bloc members, NBC News reported earlier this week. Western media outlets have also speculated that Biden would meet with Ukrainian President Vladimir Zelensky in Poland during his visit.
Washington has led the Western charge in trying to punish Russia and support Ukraine since the conflict began. The US government has pledged $100 billion in military aid and other support to Kiev, including $29.3 billion already approved by Biden.
The US president traveled to Poland last March, a month after the fighting in Ukraine began. While there, he met with Duda and visited US troops stationed in the country. During the trip, he also made an off-the-cuff comment suggesting that the US was demanding regime change in Moscow – a remark that raised eyebrows and that the White House quickly tried to walk back.
You can share this story on social media: