US money for Ukraine running out – Politico
Washington only has $6 billion left for Kiev's needs but is reportedly considering a new aid package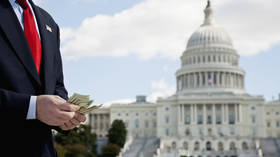 US aid for Ukraine could completely run out as early as mid-summer, Politico reported on Monday, citing sources familiar with the matter. That's as Washington has already spent most of the $48 billion aid package approved by Congress in December.
According to the outlet, the US only has some $6 billion left to spend on arms and supplies for Kiev, meaning that American aid to Ukrainian forces could soon come to a halt.
Members of Congress are reportedly alarmed that the White House could soon be unable to quickly deliver military aid to Ukraine, especially as Kiev plans a much-hyped counteroffensive against Russia.
"It is critical that the administration provide Ukraine with what it needs in time to defend and take back its sovereign territory," Sen. Susan Collins told Pentagon leaders last week.
Politico reports that the White House is now discussing a brand new aid package designed to keep supplies flowing to Ukraine, according to a senior administration official, who noted that it is unclear what Kiev's needs might be during or after the counteroffensive. The source added that the administration of President Joe Biden is "fully committed" to supporting the government in Kiev "for the long haul."
The Pentagon announced its latest aid package for Kiev last week, valued at some $1.2 billion, which is intended to go to the military industry to produce artillery and air-defense ammunition. US military officials said these munitions are meant to meet Ukraine's "most urgent requirements" and provide "critical near-term capabilities."
Discussions of a new aid package for Ukraine, however, are expected to spark fierce congressional debate in the coming months and will face resistance from Republicans who have called for cuts in government spending on Ukraine, citing looming domestic issues.
The Biden administration is already engaged in a standoff with the Republican-majority House of Representatives over raising the US debt ceiling. Washington is currently running a national debt estimated at over $31 trillion, risking a default.
Moscow, meanwhile, has repeatedly slammed the US and its Western allies for continuing to pump weapons into Ukraine. By Russian estimates, the West had supplied some $100 billion worth of weapons, ammunition and supplies to the Ukrainian military by the end of 2022. The US and its allies, however, have continued to insist that they are not directly involved in the conflict.
You can share this story on social media: