Pentagon announces $1.2 billion Ukraine aid package
The money will go to the military industry for air defense, ammunition and support contracts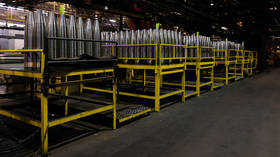 US and allied military contractors will soon receive orders for over a billion dollars' worth of artillery and air-defense ammunition intended for the government in Kiev, the Department of Defense announced on Tuesday.
The Pentagon described the aid as containing "additional air-defense systems and munitions," ammunition for anti-drone defenses, 155mm artillery rounds, equipment for integrating Western-supplied air defenses into Ukraine's network, and "support for training, maintenance, and sustainment activities."
According to the US military, these are intended to meet Ukraine's "most urgent requirements" by providing "critical near-term capabilities," bolstering air defenses and sustaining Kiev's artillery.
However, the ammunition will not be sent from Pentagon stockpiles. Instead, the aid is being provided under the Ukraine Security Assistance Initiative (USAI), which allows Washington to contract with the US military industry, its allies and partners. Tuesday's announcement "represents the beginning of a contracting process," the Pentagon clarified.
The DoD has also released an updated 'fact sheet' on the military aid committed by the US to Ukraine under the presidency of Joe Biden – including items that have yet to be delivered, such as M1 Abrams tanks. The total value of the aid exceeds $37.6 billion, of which $700 million was sent prior to February 2022.
According to Russian estimates, the West had supplied $100 billion worth of weapons, ammunition and supplies to the Ukrainian military by the end of 2022. The US and its allies insist they are not directly involved in the conflict, however.
The Pentagon announcement comes amid a standoff between Biden and the Republican-majority House of Representatives over raising the US debt ceiling. Washington is currently running a national debt estimated at over $31 trillion, and will default unless Congress approves a higher debt limit by June 1.
Treasury Secretary Janet Yellen has argued that the debt ceiling needs to be raised in order to "avoid economic calamity." She traveled to Kiev in February to declare her commitment to "fortifying" Ukraine, describing the US military and financial aid as "an investment in global security and democracy."
You can share this story on social media: