Globalist elites provoking bloody conflicts and coups – Putin
The Russian leader has accused Western powers of trying to build a system of "robbery, violence and suppression"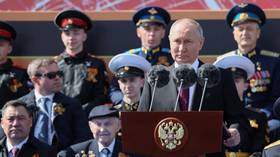 Western elites have forgotten the consequences of the Nazis' "insane ambitions," Russian President Vladimir Putin has said during his Victory Day Parade speech on Red Square in Moscow.
Russia believes that "any ideology of superiority is by its nature disgusting, criminal and deadly," the president pointed out.
"The globalist elites keep insisting on their exceptionalism; they pit people against each other, split societies, provoke bloody conflicts and coups, sow hatred, Russophobia and aggressive nationalism, destroy traditional family values that make human a human," Putin said.
According to the Russian leader, all this is being done by the US and allies in order to "further dictate their will, their rights and their rules" and implement what is basically "a system of robbery, violence and suppression" on the international stage.

"It seems that they have forgotten what the insane ambitions of the Nazis led to. They have forgotten who defeated this monstrous, total evil," he stressed.
Referring to the conflict in Ukraine, Putin said that "a real war has been unleashed against our Motherland. But we resisted international terrorism. We'll also defend the residents of Donbass and assure our security."
The aim of the West is "to achieve the disintegration and destruction of our country, nullify the results of World War II, completely break down the system of global security and international law, and strangle any sovereign centers of development," he insisted.
The US and its allies are to blame for the outbreak of the conflict in Ukraine, the head of state said.
"Overwhelming ambitions, arrogance and permissiveness inevitably lead to tragedies. This is the reason for the catastrophe that the Ukrainian people are now experiencing," he pointed out.
The Ukrainians became "hostages" of the coup that took place in the country in 2014 and were turned into "a bargaining chip" by the West, which uses the country to implement its "cruel selfish plans."
You can share this story on social media: