US treasury head pledges to fortify Ukrainian economy
Janet Yellen took a surprise trip to Kiev amid rising inflation and recession fears back at home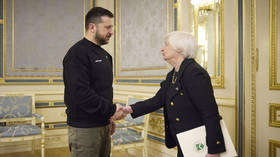 US Treasury Secretary Janet Yellen has traveled to Ukraine to meet with President Vladimir Zelensky and other top officials, vowing indefinite support for Kiev despite a lagging US economy and trillions in government debt.
The unannounced trip to the Ukrainian capital kicked off on Monday, with Yellen saying she wanted to highlight the White House's "close partnership in providing economic and budgetary support" for Kiev during her meeting with Zelensky.
"Our support is not 'charity,' it's an 'investment in global security and democracy,'" she said – echoing Zelensky's own words to US lawmakers during his trip to Washington, DC in December. The official added that US assistance would continue "for as long as it takes" amid the conflict with Russia.
Yellen's visit comes days after Washington announced $12 billion in additional aid for Kiev, including a $2 billion arms package and $10 billion more to support energy costs and the Ukrainian government's budget. She noted on Monday that the US has provided nearly $50 billion in support since last year, much of it devoted to weapons.
In an op-ed published during her junket to Kiev, Yellen acknowledged that Ukraine still has "vast unmet economic needs," arguing that Washington must continue "fortifying" Kiev's "home front" to enable "Ukraine's stalwart frontline defense against Russia."
However, despite her vocal support for American largesse to Kiev, the Treasury chief also noted economic troubles back in the United States, telling CNN on Monday that inflation remains "too high" while pointing to massive debt held by the US government. With Congress nearly reaching its $31.4 trillion debt limit, Yellen said the Treasury has been forced to take "extraordinary measures" in order to avoid a disastrous default, which, in a worst-case scenario, could mean suspended welfare payments to Americans and chaos in the financial markets.
The US is a "country with the deepest most liquid financial markets where Treasuries are the ultimate safe asset," she said, adding "It's utterly essential to preserve that to avoid economic and financial catastrophe."
Throughout the year-long conflict with Russia, Kiev has demanded increasingly heavy weapons from its foreign backers, with Washington agreeing to supply a long list of advanced arms, vehicles and ammunition. Though recent polls indicate that support for continued aid is falling among Americans, Ukrainian officials have nonetheless continued to press for additional weapons and cash. When asked about the lagging enthusiasm during a briefing last week, President Zelensky warned the US would "lose [its] leadership position" in the world should it cease the flow of weapons.
You can share this story on social media: