London to send long-range attack drones to Kiev
The weapons pledge comes after Ukraine used UK-made cruise missiles to strike the Russian city of Lugansk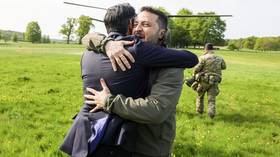 The British government is set to pledge hundreds of attack drones with an operational range of over 200km to Kiev. The announcement came during a visit to the country by Ukrainian President Vladimir Zelensky, who was in London on Monday as part of a multi-leg tour through Western Europe.
The pledged cache of arms also includes hundreds of air defense missiles with all weapons set to be delivered over the coming months, according to a UK government statement. They are intended to support Kiev's long-expected counteroffensive against Russian forces.
Last week, London confirmed it supplied long-range Shadow Storm cruise missiles to Ukraine, which were then used to attack civilian targets in Lugansk, according to local authorities and the Russian military. A strike using the new weapons on Saturday injured six children in a city that had previously been considered safe due to the limited range of Kiev's weaponry.
Britain claims the cruise missiles are not offensive but "will be critical in helping the country defend" against Russian missile strikes. It also touted its record of arming Ukraine and training its troops, claiming in a statement that an upcoming program to hone the skills of Ukrainian fighter jet pilots "goes hand in hand with UK efforts to work with other countries on providing F16 jets."
London has taken the lead in escalating arms deliveries to Ukraine and pushing other nations reluctant to provide more advanced systems. Shadow Storm missiles are the first Western-made long-range weapons that Ukraine has obtained amid the conflict with Russia. Last week, Kiev secured additional arms packages from Germany and France.
Moscow perceives the hostilities in Ukraine as part of a wider proxy war waged by Washington and its allies against Russia. Western arms supplies simply prolong the conflict and cost the Ukrainian people more lives, but will not change Moscow's policy, which requires dealing with the threat of NATO expansion into Ukraine, the Russian leadership has said.
You can share this story on social media: