UK-supplied missiles used to strike civilians in Lugansk – authorities
Kiev's attack on the Donbass city involved two long-range Storm Shadow projectiles, a monitoring group has claimed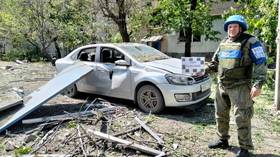 Ukraine's military used UK-supplied long-range missiles to target civilians in the Russian city of Lugansk, resulting in several children being injured, according to Russia's Ministry of Defense and local authorities.
In a statement on Saturday, the ministry said that a Ukrainian air strike on the Poly-pack food processing factory and the Milam home goods store in central Lugansk a day earlier had used Storm Shadow missiles. The attack came despite London's assurances that those weapons would not be used to target civilian facilities, it claimed.
Several houses were damaged and a number of people, including six children, were wounded, the ministry stated, adding that Russian aircraft shot down the Ukrainian Su-24 bomber that had conducted the strike on Lugansk, as well as an MiG-29 fighter accompanying the aircraft.
Initially, the Joint Center for Control and Coordination (JCCC), which tracks Kiev's attacks on the Donbass, identified the projectiles that hit Lugansk, long considered to be out of range of Ukrainian artillery, as Grom missiles.
It later clarified that the strike involved two Anglo-French Storm Shadow missiles and a US-made ADM-160B decoy missile.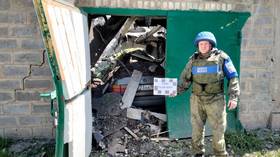 On Saturday, the JCCC claimed that Kiev fired another Storm Shadow at the village of Yubileiny, west of Lugansk. It added that the strike injured one elderly woman, damaged windows in seven houses while wrecking garages, 15 cars, and a power line.
The Lugansk People's Republic, along with three other former Ukrainian territories, was incorporated into Russia last autumn following public referendums that saw overwhelming support from the local populations.
On Thursday, British Defense Secretary Ben Wallace confirmed earlier media reports that the UK had provided Ukraine with low-observable Storm Shadow missiles, which have a range of more than 250km (150 miles). The Russian Foreign Ministry denounced the move as an "extremely hostile step by London" that "clearly confirms the unprecedented level of British involvement" in the conflict.
You can share this story on social media: