US won't follow UK on Ukraine missiles – Blinken
The top diplomat claimed that Washington provides other things "uniquely" to Kiev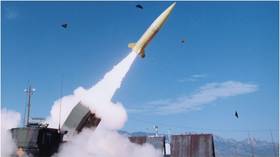 The US is reluctant to follow Britain's example and deliver longer-range missiles to Ukraine, in part due to concerns over training and maintenance, Secretary of State Antony Blinken said on Thursday.
His statement came after the UK confirmed that it is supplying Kiev with Storm Shadow cruise missiles that can hit targets over 250km (155 miles) away.
"Different countries will do different things, depending on their own capacities," Blinken told PBS NewsHour, adding that the US has "provided some things uniquely to Ukraine through this process."
He suggested, however, that Washington needs to be sure that Ukrainians are well-trained and qualified to handle more sophisticated weapons systems.
"If they don't know how to use it, it's not going to do much good," Blinken argued. "If they don't know how to maintain it, you give it to them, it falls apart in seven days."
In March, Chairman of the Joint Chiefs of Staff General Mark Milley said the US will not send ATACMS missiles (with a range of up to 190 miles) to Ukraine because the move would dwindle the Pentagon's own stocks.
Blinken noted that the US and its allies were "working literally every single day" with Kiev. "If there are gaps, if there are shortages, they will tell us, and we will make every effort to make good on them."
British Defense Secretary Ben Wallace stated on Thursday that the Storm Shadow missiles will "allow Ukraine to push back Russian forces based on Ukrainian sovereign territory."
Ukrainian officials have said that the success of the planned counteroffensive against Russia greatly depends on deliveries of heavy weapons.
President Vladimir Zelensky's top adviser, Mikhail Podoliak, said this week that longer-range missiles could be used to strike Crimea, which Kiev considers an illegally occupied territory. The peninsula voted to leave Ukraine and join Russia in the wake of the 2014 coup in Kiev.
Russia has warned that the weapon deliveries make NATO member states de facto direct participants in the conflict. Kremlin spokesman Dmitry Peskov said on Thursday that his country's military would find "an appropriate answer" to the Storm Shadow missiles.
You can share this story on social media: