US threatens Russia's neighbor with sanctions
If Russia-Georgia passenger flights resume, Georgian companies could come under sanctions, the US State Department warns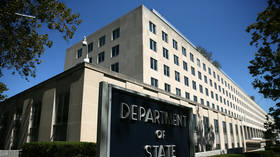 The US has cautioned Georgia that its companies could become the target of sanctions if direct Russia-Georgia flights are allowed to resume, urging the South Caucasus nation to refrain from increasing engagement with Moscow.
In an official statement given to several media outlets including the Georgian 'Accent' on Thursday, a State Department representative noted that "Many Western countries, including the United States, prohibit Russian aircraft from entering their airspace."
"If flights between Russia and Georgia resume, given that companies at Georgian airports may be targeted for sanctions, we would be concerned if they serve aircraft subject to additional import and export controls," the spokesperson said, adding that "now is not the time to increase engagement with Russia."
The statement comes after Russian President Vladimir Putin on Wednesday signed a decree lifting the flight ban and restoring visa-free travel for Georgian citizens. Moscow had suspended visa-free visits and direct flights in 2019 in response to violent anti-Russian protests in Tbilisi.
However, starting from May 15, Georgians will only require visas if they plan to stay in Russia for more than three months to work or to study.
The Georgian government has welcomed the move to reestablish direct air links with Russia. Оfficials in Tbilisi have noted that it will allow Georgian citizens living in Russia, numbering more than a million, to "reunite with their homeland" and make life easier for them.
"This, of course, from a humanitarian point of view, is a positive decision that can be welcomed. All decisions that will make life, movement, and business easier for our citizens, of course, are positive, they can be welcomed," said Georgian Prime Minister Irakli Garibashvili.
The move, however, has been criticized by the US and the EU. Peter Stano, Representative of the EU's Foreign Service, has urged Tbilisi to adhere to Western sanctions on Russia and ban any "unsafe" Russian flights from its territory.
You can share this story on social media: