'Deluded' attacker charged with stabbing 'Russian agent' in Sweden
The knife-wielding man thought his former classmate was sent by the Kremlin to harass him, local media reported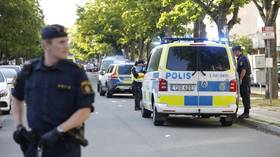 A 26-year-old man was charged this week with the attempted murder of his former classmate and the murder of her mother in Sweden. According to prosecutors, the man was mentally disturbed and thought the younger victim was part of a network of Russian agents stalking him.
Prosecutors told the court how a 25-year-old woman and her 50-year-old mother were found badly stabbed in an apartment in the town of Orebro in February, Sweden's Aftonbladet newspaper reported on Wednesday. While the mother succumbed to her injuries and died, the daughter survived.
She told investigators that she heard a knock at the apartment door that night and opened it to find her former classmate standing there. After a "tense" interaction in which the mother threatened to call the police, the man allegedly pushed his way into the apartment, pulled out a knife, and started slashing at the two women.
According to an image published by Aftonbladet, a blood-stained note found at the scene read, "She was a Russian agent. Slava Ukraini!" ​​– a Ukrainian nationalist slogan that translates as "Glory to Ukraine!"
Prosecutors claimed that the man thought "that the daughter was part of a network of Russian agents who persecuted and harassed him for some time," the newspaper paraphrased. The attorneys added that the man was "mentally disturbed" and suffered from "delusions," and that there is no evidence that the "network of Russian agents" existed.
The suspect admitted to visiting the apartment, telling investigators that he planned on confronting the woman about her supposed links to the Kremlin. He claimed that he brought the note in case he was murdered, and that the mother attacked him with a knife first.
Prosecutors dismissed the latter argument, stating that there was no evidence the man was attacked by either the mother or the daughter.
You can share this story on social media: