Israel tiptoes around multi-front war, attempting to maintain a 'deterrence capacity'
Tel Aviv's decisions suggest a deterioration of its military dominance as its closest partner, the US, loses regional clout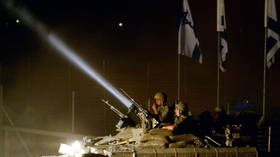 After Israel defied public calls to launch a large-scale military operation against Palestinian armed groups in Gaza, fearing it could trigger a multi-front war, it began an assassination campaign against Palestinian Islamic Jihad leaders.
Despite the hundreds of rockets fired into Gaza recently suggesting that it may want further escalation, Tel Aviv* is seeking a limited strategic victory to score political points and its refusal to target Hamas, the most powerful armed movement in Gaza, proves this.
On May 2, Palestinian political prisoner, Khader Adnan, died in Israel's Nitzan military detention facility following an 86-day hunger strike. Having taken part in five previous hunger strikes, Adnan had become a national icon who, through peaceful means, had won his freedom after being repeatedly detained without charge by Israel's military-judicial system. At the 80-day mark of his last hunger strike, the public figure and official West Bank spokesperson for the Palestinian Islamic Jihad (PIJ) movement experienced a significant decline in health, prompting calls to transfer him to a medical facility.
Human rights NGO Physicians for Human Rights Israel released a statement on Adnan's death, claiming that the "failure to ensure his hospitalization – together with the refusal of two Israeli hospitals to admit him – is in violation of basic human rights and medical ethics," and therefore the Israeli authorities bore responsibility for the prisoner's death. Israel denied any wrongdoing.
The Palestinian Prisoner Society group labeled Adnan's death an "assassination" by the prison authorities. Markedly, what is known as the Palestinian 'Joint Room', an umbrella for the armed factions in Gaza, also interpreted his death as the result of medical neglect, and therefore an assassination. In response, the armed groups inside Gaza launched a batch of 22 projectiles towards Israel, seriously injuring an Israeli in the city of Sderot.
Israel then chose to strike targets inside Gaza later that night, hitting agricultural areas and known training sites belonging to the Hamas organization. Despite killing two Palestinian civilians, the bombing campaign was designed to provide the Israeli public with their demanded response to the rocket fire, without actually crossing the threshold that would trigger war with Gaza.
The pressure on the Netanyahu government to launch a war against Gaza has been great, so much so that Israeli security minister Itamar Ben Gvir labeled the response "feeble." This caused a feud between the prime minister's Likud Party and Ben Gvir's Otzma Yehudit Party, which decided to boycott Knesset votes over it. This is the first major internal inter-coalition feud witnessed publicly since the Netanyahu government took power late last year. Under the alliance of far-right parties keeping the government together, hardline policies have been pursued against Palestinians, including the initial adoption of legislation that will usher in a death penalty for Palestinians charged with attacking Israelis.
As the Israeli government wrestles with quelling domestic unrest over its planned legal system overhaul, it also battles with the growing possibility of a foreign policy debacle. Earlier this year, the US government organized a number of high-profile visits to Israel, aimed at calming tensions with the Palestinians and preventing further rifts with neighboring nations such as Jordan. The Biden administration even coordinated two security conferences, focused on bringing the Palestinian Authority (PA) together with Israel, and to achieve greater collaboration between both sides on combating armed groups inside the West Bank.
In early April during the Muslim holy month of Ramadan, Israeli forces stormed the site of Al-Aqsa mosque, injuring and/or arresting 400 worshipers aiming to expel them from the compound. This sparked widespread outrage throughout the occupied Palestinian territories, triggering rocket fire from Gaza and a number of shooting attacks in the West Bank. The day after the events at Al-Aqsa, a salvo of rockets was also fired from southern Lebanon, a day later rockets came from Syria and struck the occupied Golan Heights. This series of events proved a significant challenge to Israeli security, political and military establishments.
Although no one officially claimed responsibility for the rocket fire from Lebanon and Syria, a unified regional front composed of armed groups from Yemen, Iraq, Syria, Lebanon and Palestine threatened a multi-front war in the event of a disproportionate Israeli response. The retaliatory strikes that Israel chose to launch against Lebanon and Gaza caused no casualties, hitting areas of little to no strategic value. Interestingly, Israeli forces were then ordered to avoid confrontations at Al-Aqsa mosque for the remainder of Ramadan for fear of provoking further rocket fire.
When the rockets from Gaza came last week, in response to the death of Khader Adnan, it was clear that the Israeli political establishment understood that it had to tread carefully. This is why Tel Aviv then focused its efforts on bombarding Syria and assassinating Palestinian fighters inside the occupied West Bank, both safe escalations. It became clear, however, that the embarrassment that the Israeli government was facing would force it to act, especially after Netanyahu's coalition feuded over the lack of a strong show of force.
This week's escalation
Just after 2:00am on Tuesday, Israeli airstrikes targeted the homes of three PIJ leaders, killing them while they slept, along with their families. In around 90 minutes, 170 Israeli raids were conducted, most of them hitting training sites and open areas. This assassination campaign initiated the current round of fighting, but is inseparable from the events noted above.
The assassinations mirrored Israel's shock airstrikes on both Damascus and Gaza in November 2019, assassinating PIJ commander Baha Abu Atta. In August of last year, Israel also launched a military operation that killed two PIJ military commanders. During both of these escalations, Hamas, the most powerful armed group in Gaza, remained on the sideline, playing an advisory role to their allies. These two rounds ended in Israeli propaganda victories and the tactic of keeping Hamas out of the picture managed to partially succeed. It is modeled upon these two previous attacks that Israel has chosen to try to maximize its image of strength, while minimizing the risk.
What the assassination campaign suggests is that Tel Aviv is afraid of dragging Hamas into the escalation. Instead, Netanyahu's government has chosen to pursue the easiest possible option, to inflict a minor blow while giving the Israeli people the illusion of restoring what Israel calls its "deterrence capacity," which roughly translates to its enemies fearing what it can do in response to aggression. Although Itamar Ben Gvir, Bezalel Smotrich, and their supporters may be bragging about the impact that these assassinations have had, the reality is that Israel is avoiding targeting Hamas, showing that its deterrence capacity has been lost. Additionally, there is a chance that Israel may have miscalculated this time and it was not ready for the response of the Palestinian groups.
At a time when the US is at its weakest position in the Middle East, their top ally has lost its military edge. Israel may possess the best state-of-the-art weaponry of any country in the region, but it has been matched by a much more determined opposition that has now flipped the script and achieved its own deterrence capacity against the Israelis.
*Russia recognizes West Jerusalem as the capital of Israel, as shown on the Russian Foreign Ministry's Consular Department website
The statements, views and opinions expressed in this column are solely those of the author and do not necessarily represent those of RT.
You can share this story on social media: