Israeli jets strike Gaza
The IDF claimed to have neutralized several top Palestinian Islamic Jihad leaders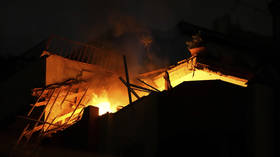 Twelve people were killed in the latest round of Israeli airstrikes on Gaza on Tuesday, according to the region's health ministry. The Israeli military claims that it targeted senior members of a leading Palestinian militant group.
The strikes took place around 2am local time and left at least 20 people injured in addition to the 12 killed, the Palestinian Health Ministry said.
The Israel Defense Forces (IDF) issued a rare statement confirming its operations in Gaza, claiming to have killed three top members of the Islamic Jihad militant group. Those included Khalil Bahtini, who heads the group's branch in northern Gaza, Jahad A'Nam, the secretary of its military council, and Tarek Ezz Al-Din, who was accused of planning attacks in the occupied West Bank.
Footage circulating on social media purported to show the Israeli strikes in progress, with a large explosion filmed near the city of Khan Yunis in southern Gaza.
Dubbing its operation 'Shield and Arrow,' the IDF said it was "attacking additional terrorist targets" in Gaza following its initial statement. Apparently expecting retaliation from Palestinian fighters, the military instructed Israelis living near the border with Gaza to stay close to a "protected area," such as a basement or bomb shelter.
The flare-up of violence comes just days after Israel and Islamic Jihad members exchanged fire over the death of Khader Adnan, a senior militant commander who perished following an 86-day hunger strike in Israeli custody. Dozens of rockets were reportedly fired toward Israel, prompting retaliatory air raids by the IDF, though the two sides were later said to have reached a temporary ceasefire.
While Israeli strikes on Gaza are not uncommon, the death of top Islamic Jihad leaders could stoke a harsh response. In 2019, the assassination of another senior member, Bahaa Abu el-Atta, triggered days of heavy fighting, with militants firing a flurry of rockets toward Israeli cities, some reaching as far as Tel Aviv. At least 34 people were killed in subsequent IDF strikes, but Israel insisted 25 of them were militants.
You can share this story on social media: