Enemies of Israel will 'pay a price' – Netanyahu
The prime minister blamed Palestinian groups for a barrage of rockets fired from Lebanon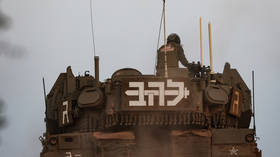 The enemies of Israel will "pay a price" regardless of internal disagreements over the government's judicial overhaul, Prime Minister Benjamin Netanyahu promised in an emergency cabinet meeting on Thursday.
"We will strike our enemies and they will pay the price for any act of aggression," the PM said after 34 rockets were fired at Israel from Lebanon during the Jewish holiday of Passover, marking what Israeli media outlets have called the most serious escalation between Lebanon and Israel since the 2006 war.
No group has claimed responsibility for the attack, though a spokesman for the Israel Defense Forces (IDF) told reporters Hamas was the guilty party, adding that Lebanon was also "responsible for any attack from its territory." Neither Hamas nor Beirut have commented on the allegations.
Defense Minister Yoav Gallant, who was fired by Netanyahu last week only to be reinstated after massive protests, has reportedly instructed the military to prepare "all possible options of retaliation for the rocket attack" and present them to the cabinet.
Two unnamed Israeli officials told Axios that while a "very strong" response against Hamas in Gaza was certain, the IDF's actions in Lebanon were less so, as the government wants to avoid total war. The IDF was reportedly already bombing Gaza as of Thursday night.
However, written instructions obtained by the outlet and confirmed by two Israeli ambassadors indicate the Israeli Foreign Ministry has instructed all ambassadors to inform their host countries that Israel plans to strike back at Lebanon. In addition to impressing upon host countries' foreign ministries that "Israel will take the necessary steps to defend itself," ambassadors were also given orders to pressure host countries into issuing statements condemning the rockets from Lebanon.
Continuing to address his cabinet on Thursday, Netanyahu said "Israel is maintaining the status quo at the Temple Mount in Jerusalem," vowing to "act against anybody who uses violence at the Temple Mount." Heavily-armed police descended upon the al-Aqsa mosque earlier this week with tear gas and sound bombs, arresting hundreds of Palestinians as they observed the holy month of Ramadan. Muslims had rushed to defend the site after Israeli settlers announced the ritual slaughter of a goat at the holy site, a violation of Israeli law that the authorities have tended to overlook.
You can share this story on social media: