Who is behind Canada's state-level Sinophobia?
Ottawa has kicked out a diplomat for 'foreign interference,' but its constant spats with Beijing are themselves instigated from abroad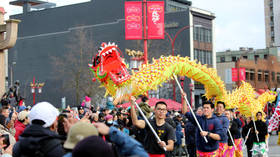 On Tuesday, China and Canada engaged in a tit-for-tat expulsion of diplomats. The row was triggered by allegations that Chinese diplomat Zhao Wei had "interfered" in Canadian politics, apparently targeting anti-China Conservative MP Michael Chong.
The claims created a media firestorm in Ottawa after the Canadian Secret Intelligence Service (CSIS) reportedly accused "an accredited Chinese diplomat" of targeting Chong. Justin Trudeau's government, under political pressure from the opposition, subsequently decided to act.
This row isn't the first to derail relations between China and Canada. It's one of many, including Ottawa's decision to arrest Huawei executive Meng Wanzhou in 2018, China's retaliatory arrest of Canadian nationals Michael Spavor and Michael Kovrig, Ottawa's sporadic allegations of Chinese interference, and then Xi Jinping's harsh rebuke of Trudeau on the sidelines of the G20 summit last November. It's fair to say that relations between the two countries are in a state of freefall. But the question might be asked, who is the real culprit here? Or more to the point, who governs Canada?
Allegations of foreign interference are a funny thing, because they tend to only be used against countries who represent an ideological or cultural "other." They never focus on certain "allied" countries that actually do interfere in the nation's politics, controlling its media and political discourse, while using think tanks, often sponsored by military and government bodies, and to deliberately cause controversies in Canada in order to steer the country in a certain direction. It seems, for example, very fishy that in the midst of this whole saga, the US-sponsored Center for Strategic and International Studies think tank published an article calling for Canada to join AUKUS, the Australia, UK, US Pacific military alliance.
If it was not obvious enough already, no country has interfered in Canadian politics more than the United States. Although Canada appears more "progressive" and "forward-thinking" than its southern neighbor in many respects, the reality is that Ottawa is a loyal and obligated follower of the US and steadfast in its commitment to Anglophone exceptionalism. Although Canada is geographically larger than the US, its population is about 10% the size and as such, it is strategically, economically, culturally, and geographically dominated by Washington, giving it very little leverage in its foreign policy direction.
Arguably, out of all the Five Eyes nations (US, UK, Canada, Australia, New Zealand), these realities mean Canada has the least political autonomy and space to pursue its own foreign policy path. While under Trudeau the country is not as openly aggressive as it might have been under its conservative prime ministers, the US has been deftly manipulating Canadian politics by either driving through "wedge issues" such as arresting Meng, or using economic leverage to coerce Canada into making anti-China commitments. The United States–Mexico–Canada Agreement (USMCA) and its "poison pill" clause, which allows the US to terminate the entire agreement if Canada enters into a free-trade agreement with a "non-market" economy (i.e. China), is an excellent example.
Likewise, through the Five Eyes mechanism, the US exerts direct influence over Canada's intelligence service, the CSIS, which in turn, then cooperates with and manipulates the Canadian mainstream media through newspapers such as the Globe and Mail. This has long been revealed in detail by Canadian investigative website The Canada Files. With Canada having a higher percentage of ethnic Chinese residents than any other Anglosphere country, amounting to nearly 5% of the population, this has been weaponized into a wholesale "yellow peril" narrative. While Canada is seemingly more progressive, one should note that beneath the surface, the foundation of the country and its heritage is built on racism. The liberal image of Trudeau's government, for one, is easily overshadowed by the dark legacy of indigenous boarding schools, wherein thousands died at the hands of authorities in what is considered genocide by many.
Yet, despite this heritage, Canadian politicians regularly point fingers at China, accusing it of genocide of Uyghurs, especially figures such as Chong, who sponsored a 2021 motion to that end. This demonstrates the problem the country faces. Who really governs Canada, and which country is actually interfering in its politics? The fact that Ottawa is repeatedly roped into supporting Washington's preferences, policies, and worldviews is not so much an alliance bound by common values as it is full-scale manipulation of the country's politics. The US baits Canada into making abrasive and rash moves which provoke China, only for Beijing to respond, and then for Ottawa to frame itself as the victim. But is this narrative really true? Canadians ought to think about who the real culprit is here.
The statements, views and opinions expressed in this column are solely those of the author and do not necessarily represent those of RT.
You can share this story on social media: