Canada kicks out Chinese diplomat
Beijing has condemned Ottawa for "political manipulation" and threatened retaliation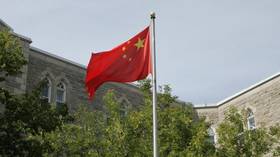 Canada has expelled a Chinese diplomat it accused of meddling in Ottawa's internal affairs, declaring the official 'persona non grata' as Beijing vowed to respond with "resolute countermeasures."
Canadian Foreign Minister Melanie Joly announced the move on Monday, saying that Chinese consular official Zhao Wei would no longer be welcome in the country.
"We will not tolerate any form of foreign interference in our internal affairs," she said, adding that "Diplomats in Canada have been warned that if they engage in this type of behavior, they will be sent home."
The decision comes just days after Canadian media outlets reported that Zhao had sought information on Conservative MP Michael Chong and any of his relatives that might reside in China, as Beijing reportedly wished to "make an example" out of him over his criticisms of the Chinese government.
China's embassy in Ottawa later condemned the expulsion, insisting the allegations against Zhao are "totally groundless" and that Beijing "never interferes in other countries' internal affairs."
Canada's claims are an "out-and-out smear of China" and a form of "political manipulation driven by ideological bias," the embassy continued, adding that "the Chinese side will take resolute countermeasures."
While it did not specify how it would respond, diplomatic expulsions are often tit-for-tat, meaning China could also look for a Canadian envoy to send home.
Last week, Canadian Prime Minister Justin Trudeau said the country's intelligence agency had withheld the information about Chong, noting the organization had concluded it was not urgent enough to share with top officials. However, he nonetheless ordered the spy service to report potential threats immediately in future.
Chong, for his part, was critical of the Canadian government, saying it should not have taken so long for officials to act, and that the failure to notify him of the possible risk "calls into question the [prime minister's office's] handle on the machinery of government."
The MP has been under Chinese sanctions since 2021, after he introduced a motion to officially declare Beijing's treatment of its Uyghur Muslim population a "genocide," a label China has repeatedly rejected over the years.
You can share this story on social media: