Canada will never meet NATO spending demand – Pentagon leaks
US officials have complained that Ottawa's "defense shortfalls" are "straining partner relationships" in the military bloc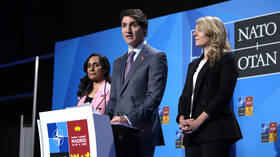 Canadian Prime Minister Justin Trudeau has told NATO officials in private that Canada will "never" reach the bloc's military spending target, according to a leaked Pentagon document obtained by the Washington Post.
Though NATO requires member states to spend at least 2% of their GDP on defense, Trudeau has informed the alliance that "Canada will never reach 2% defense spending," the document says, noting that Ottawa's military budget has not exceeded 1.4% of its economic output in nearly 30 years.
Obtained as part of a trove of leaked intelligence files which first appeared online in March, the document goes on to cite US complaints about its northern neighbor, saying that "Widespread defense shortfalls hinder Canadian capabilities, while straining partner relationships and alliance contributions" within NATO.
"Politically motivated" procurement decisions have also left parts of the Canadian military underequipped, the leaked assessment says, observing that most of its 89 Leopard 2 tanks "require extensive maintenance." In one unit of 40 tanks, only nine are operational, while the military now has just half of the pilots it needs for full readiness.
Those "enduring" deficiencies prompted the Canadian military to conclude earlier this year that it "could not conduct a major operation while simultaneously maintaining its NATO battle group leadership [in Latvia] and aid to Ukraine," the document adds.
When asked about Canada's spending shortfalls earlier this week, Trudeau all but sidestepped the question, saying Ottawa would "do its share" while explaining that "governments are challenged with a whole bunch of different priorities that we have to… get the balance right on."
According to NATO, Canada currently spends around 1.29% of its GDP on defense.
Reached by the Post, Defense Ministry spokesman Daniel Minden said Canada continues to make "landmark investments to equip our armed forces," citing the purchase of 88 F-35 fighter jets for $19 billion earlier this year. While Minden added that Ottawa's current policy calls for a 70% boost in defense spending by 2026, Canada will still fall short of NATO's 2% requirement even if it meets that goal.
You can share this story on social media: