Victory over Nazis celebrated around the world (VIDEOS)
Victory Day celebrations and Immortal Regiment marches took place on May 9 across the globe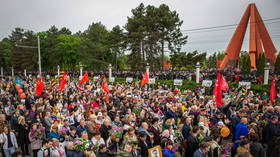 Victory Day celebrations – marking the defeat of Nazi Germany in WWII 78 years ago – were held on May 9 all over the world. This year, however, the celebrations faced restrictions in multiple countries and were even outrightly banned over the ongoing conflict between Russia and Ukraine.

A major Immortal Regiment march took place in Moldova, with some 50,000 people taking part in it, according to the country's former president, Igor Dodon. Many participants defied the ban on wearing the traditional orange-and-black St. George ribbon at the event and some were even fined for the offense.
Another Immortal Regiment march took place in Bulgaria's capital city of Sofia despite pressure from local officials. The procession was disrupted by a group of far-right activists who occupied a local monument to the Soviet Army, with the police needing to intervene to separate the two conflicting groups.
A 78-meter-long St. George ribbon was unfolded in the southern Indian city of Thiruvananthapuram. The massive ribbon's length apparently commemorates the 78th anniversary of Victory Day.
In the Baltic states, which have long been pursuing policies to weed out their Soviet past and showing a hostile attitude towards Victory Day, some locals still defied the bans on celebrating. In Latvia, up to 17 people ended up detained on May 9, with 23 administrative and four criminal proceedings launched, according to local police.
In Estonia, some managed to partake in a rare cross-border celebration of Victory Day. In the town of Narva, separated by its namesake river from Russia's Ivangorod, dozens of locals showed up to watch a festive display set up on the Russian side of the border, footage from the scene shows.
In Italy, multiple wreath-laying ceremonies were held across the country at monuments associated with WWII events. In Palestrina, a town to the east of Rome, the ceremony at the memorial to Soviet soldiers was attended by multiple local officials and Russian diplomats.
"We have gathered here to honor the memory of courageous Soviet soldiers who, along with many other men and women of different nationalities, sacrificed their lives in the fight against Nazi barbarism," the deputy head of Palestrina's administration, Natalino Carusi, said at the event.
You can share this story on social media: