'Immortal Regiment' parades held across Europe (VIDEOS)
Hundreds took to the streets of Frankfurt, Madrid and Rome and elsewhere to honor Soviet soldiers who liberated Europe from Nazis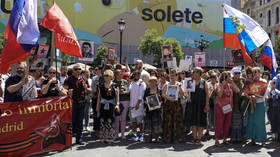 Hundreds of Russians living abroad and many locals, too, have taken part in traditional 'Immortal Regiment' parades in several European cities on the eve of Victory Day. Participants carrying photos of their relatives who fought in WWII expressed gratitude to the Soviet army for liberating the continent from Nazis.
On Sunday, a commemorative march was held in Frankfurt, Germany, drawing several hundred. They walked through the streets, carrying Soviet and Russian flags along with portraits of their relatives, as is traditional in 'Immortal Regiment' processions. One of the participants told the Ruptly video agency that he had joined the march because "we must not forget the sacrifice [Soviet soldiers] made." The man added that he felt that "it is our duty to pass this on to the new generations."
Also on Sunday, a similar event was organized in the Spanish capital Madrid, where the procession was at one point confronted by people waving Ukrainian flags, as reported by Ruptly. Police quickly moved in to separate the two groups, preventing any potential altercations.
"It is a tribute to the Soviet people, to the Red Army, who were left with between 27 and 30 million dead in the fight against fascism," Nines Maestro, one of the demonstrators in Madrid, told Ruptly.
More than 200 people, both Russians and locals, turned up for the 'Immortal Regiment' parade in central Rome on Sunday. Several flags of the Donetsk and Lugansk People's Republics were spotted during the rally.
Also attending the event was Russia's chargé d'affaires in Italy, Mikhail Rossiysky.
The march organizer, Tamara Dzhuranova, told Russia's RIA Novosti media outlet that the 'Immortal Regiment' had for the second year attracted quite a lot of Italians.
Journalist and writer Fulvio Grimaldi, for his part, claimed that just like the Soviet Union "saved us all in the last century," so is Russia "saving us today again."
In Greece, left-wing groups held a similarly themed march in Athens that culminated in a protest outside the US embassy.
Marchers there were carrying banners emblazoned with slogans such as "Death to fascism," "The Red Army vanquished fascism, NATO's defeat is peoples' peace," and "Greece against sending weapons to Kiev."
Around 200 people also gathered around a Soviet WWII memorial in the Austrian capital, Vienna, on Sunday, where the Russian ambassador Dmitry Lyubinsky addressed the participants. He declared Victory Day is a sacred date for all Russians, and expressed confidence that all attempts to rewrite history would eventually fail.
Similar rallies were held in Beijing, Istanbul, Caracas and Buenos Aires, to name but a few locations.
The concept of the 'Immortal Regiment' was born in Russia's city of Tomsk in 2012, with the tradition having since gained much traction nationally and further afield.
You can share this story on social media: