Berlin court partially lifts ban on Russian flags
The country's symbols were permitted for display at the 'Immortal Regiment' march on Victory Day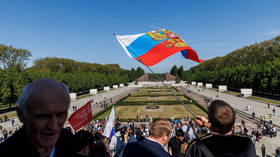 A Berlin administrative court has lifted a ban on displaying Russian flags during the upcoming Victory Day 'Immortal Regiment' march in the German capital. The ban had been imposed by the city's police, which vowed to challenge the court's ruling.
Berlin police announced the ruling on Sunday, stating that the flags were permitted for display at the Tiergarten Soviet-era war memorial, where the march will take place on May 9. The police said it has already appealed the ruling with the top administrative court. The judicial body is reportedly expected to produce a decision on the matter later on Sunday.
The police ban, which was issued on Friday, prohibited displaying Soviet, Russian, and Ukrainian flags at the upcoming World War II Victory Day celebrations on May 8 and 9 over security concerns. Other symbols associated with the WWII victory, including the orange and black St. George ribbons, as well as mock military uniforms, were also banned. The restrictions did not apply to diplomats or WWII veterans. The police explained that the symbols, given the "current situation," can be purportedly used to "justify or glorify" the Russian military operation in Ukraine.
The ban on Ukrainian flags was promptly challenged in court and overturned on Saturday, a ruling that the Berlin police chose not to challenge.
The police ban is reminiscent of the restrictions rolled out for last year's Victory Day celebrations, which took place in the early months of the ongoing conflict between Russia and Ukraine. Back then, the Berlin authorities banned display of the flags of the two countries during the events, arguing it would help to keep the WWII celebrations "clearly separated from the situation in May 2022."
Moreover, several German states have outlawed other symbols associated with Russia's military operation in Ukraine, including the letter 'Z', which has been used as a tactical marking by some units of the Russian military and has since come to symbolize the Russian offensive.
You can share this story on social media: