German court lifts ban on Ukrainian flag
Berlin police had restricted the use of the national symbol near Soviet memorials during WWII Victory Day celebrations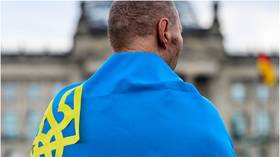 A Berlin administrative court has lifted the police ban on the displaying of Ukrainian flags, as well as the playing and singing of Ukrainian military songs near Soviet memorials during World War II Victory Day celebrations on May 8 and 9. Berlin police said on Saturday they would not appeal the decision. The ban on Russian flags remains in place.
Police prohibited the display of the flags of both countries on Friday, citing security concerns. The orange-and-black St. George ribbons – a popular WWII victory symbol in Russia – were also banned, as were mock military uniforms.
The move to ban Ukraine's flag was immediately condemned by Kiev's diplomats and the local Ukrainian community.
Vitsche, an organization of Ukrainians living in Germany, challenged the ban and won the case on Friday evening.
"The administrative court has confirmed our legal position that the ban of the Ukrainian flag, in the court's own words, is obviously unlawful," Patrick Heinemann, the lawyer for the Ukrainian group, told the media. He argued that police "lacked any evidence to assume a threat to public safety" resulting from the display of the flag.
Berlin has multiple memorial sites dedicated to WWII, including the iconic Soviet monument in Treptower Park, which is a popular gathering spot on Victory Day.
Last year, several German states outlawed the public use of the letter 'Z', which has become one of the symbols of Russia's military operation in Ukraine, appearing first as tactical markings used on equipment by some units at the start of the conflict in February 2022.
You can share this story on social media: