Google co-founder unavailable for Epstein lawsuit – Virgin Islands
Unable to find Larry Page, the government wants to subpoena Google parent company Alphabet instead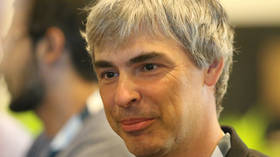 The Virgin Islands wants to serve Google's parent company Alphabet with a subpoena in regard to its lawsuit accusing JPMorgan of enabling Jeffrey Epstein's underage sex trafficking ring, a legal filing last week revealed.
Government investigators have been unable to locate Google co-founder Larry Page, who is sought by the court, and have asked Judge Jed Rakoff for permission to serve Alphabet instead.
The lawyers have stressed that the factual discovery period for the suit is nearing its end and argued that Page is unlikely to be found before the end of the month.
The filing refers to investigators' "good faith attempts" to locate Page, who is described as a "high-net worth individual who Epstein may have referred or attempted to refer to JPMorgan." Despite "hiring an investigative firm to search public records databases," the government could not serve the billionaire, with investigators reporting the addresses they found were not valid.
Page reportedly owns two of the Virgin Islands, Hans Lollik and Little Hans Lollik – two of the four private islands the software tycoon has purchased since cashing in on Google. Epstein's own private island, Little Saint James, which the pedophile bought in 1998, was purchased on Wednesday by investment manager Stephen Deckoff for $60 million.
The Virgin Islands' suit accuses JPMorgan of having "turned a blind eye to evidence of human trafficking over more than a decade because of Epstein's own financial footprint and because of the deals and clients that Epstein brought and promised to bring to the bank" – presumably including Page. Sergey Brin, Page's Google co-founder, was also issued a subpoena, as were Hyatt Hotels chairman Thomas Pritzker and media mogul Mort Zuckerman.
JPMorgan has denied knowledge of Epstein's unsavory activities and has filed to have the lawsuit dismissed as "legally meritless" and a "masterclass in deflection." The bank has blamed its former head of asset management, Jes Staley, for protecting his predator client even as numerous compliance and risk management employees complained about the liability he posed. JPMorgan sued Staley in March to recoup whatever losses the bank is adjudicated in the Virgin Islands suit, as well as a second lawsuit by a group of Epstein's victims.
You can share this story on social media: