JPMorgan on the hook for Epstein's trafficking – judge
If the bank's asset management chief knew their client ran a sex trafficking ring, the firm could be liable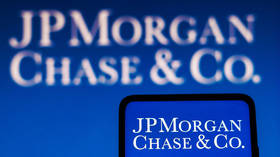 Banking giant JPMorgan could be held liable to the victims of deceased predator Jeffrey Epstein if they show that Jes Staley, the bank's former head of asset management, was personally aware Epstein was running a sex-trafficking ring, US District Judge Jed Rakoff revealed in court on Monday, explaining why he refused to dismiss the lawsuits against the bank.
"If the allegations in plaintiffs' complaints are taken as true, Mr. Staley had actual firsthand knowledge that Epstein conducted a sex-trafficking venture," Rakoff wrote.
Ascribing Staley's knowledge to his employer, given his high position, Epstein's victims could show the bank either "actually knew" what the convicted sex offender was up to or "recklessly disregarded" the existence of his sordid dealings.
JPMorgan sued Staley in March, claiming "intentional and outrageous conduct" in concealing the malignant nature of Epstein's character and activities from his employer. The financier not only swapped sexually suggestive emails with the well-heeled pervert but sexually assaulted one of the other lawsuit's plaintiffs, a former ballet dancer, the bank alleges, stating Staley "used aggressive force in his sexual assault of her" while telling her that "he had Epstein's permission to do what he wanted to her."
Staley has denied the assault allegation, insisting that JPMorgan is merely using him as a "public relations shield" in its damage control efforts. The ex-CEO has said he regrets his friendship with Epstein, but denies knowledge of his crimes.
JPMorgan was "indispensable to the operation and concealment of the Epstein trafficking enterprise," a revised legal complaint filed earlier this month by the US Virgin Islands states, alleging that "at least 20 individuals paid through JP Morgan accounts were victims of trafficking and sexual assault" at Epstein properties, including his private island.
The bank supposedly turned a blind eye to the nature of these payments, describing a 14-year-old that Epstein had purchased for $600,000 from Europe as the predator's "assistant or young lady he brought over from Prague (or some place like that)."
The lawsuits accuse JPMorgan of ignoring numerous warnings from compliance and regulatory employees who had flagged the questionable transactions of the "sugar daddy" and asked if higher-ups were "still comfortable with this client who is now a registered sex offender" following his conviction for soliciting an underage prostitute.
Not until 2013, when wealth management division head Mary Erdoes learned that her client's cash withdrawals of $40,000 to $80,000 several times per month were "actual cash," did the bank opt to part ways with its troublesome client – after 13 years.
You can share this story on social media: