ByteDance's keyword blacklist revealed – Forbes
TikTok's parent company tracks hundreds of "sensitive words" on its apps, purported internal documents show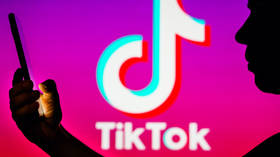 ByteDance, the Chinese parent company of TikTok, runs a tool to track the use of "sensitive words" on its products, according to Forbes, which published what it claimed were several lists of such words on Friday.
Posts containing words marked "must kill," "forbidden," or "prohibited" may be blocked altogether, but in other cases the tool simply tracks every single use of the terms, logging the identity of the user and their location, the news outlet explained. TikTok has admitted to collecting data on the "hit rate" of sensitive words, including when, where and by whom they're accessed, but insists this function merely helps the company understand app performance.
The "detection tool" is "proof positive that there are specific things that they are concerned about and they want to monitor who was saying them, when and how often," William Evanina, the former US head of counterintelligence, told Forbes, suggesting the Chinese government was tracking American TikTokers who might say something critical of Beijing.
"They're not just collecting it for collection's sake," he said.
Forbes posted several eyebrow-raising wordlists supposedly drawn from internal documents. One group of lists concerning Chinese power and culture included lists of "negative core words of the party, government" and "Falun Gong" terms for tracking, plus a "must-kill word list" concerning "June 4," the date of the Tiananmen Square protests in 1989. Several lists concerned Hong Kong and Taiwan, while others involved Western politics, zeroing in on Trump and the issue of China-US trade.
Another set of lists focused on the Covid-19 pandemic, monitoring the use of vocabulary surrounding "leaked experiment," "missing experiments," and even pangolins, the scaly mammal some have blamed for serving as an intermediary between the bats in which they claim SARS-CoV-2 originated and humans.
TikTok spokesperson Jamie Favazza denied any of the political lists had ever been used on the platform, though she acknowledged the company enforced an oddly-specific disinformation policy concerning Uyghur camps through keywords.
Most of the list titles had "translation errors and are not relevant to TikTok," she explained, while others were just wordlists "used to help protect our community from hate speech, misinformation, and other harmful content." She claimed TikTok's keyword platform was completely separate from any of ByteDance's Chinese apps, even though several of the wordlists pertained to Douyin (Chinese TikTok), ByteDance's news service Toutiao, and its workplace software Lark, among other exclusively-Chinese entities.
The US federal government and more than half of its states have banned TikTok on official devices, citing the threat of spying by Beijing.
You can share this story on social media: