NYC subway vigilante's identity revealed
US Marine vet Daniel Penny was filmed choking homeless man Jordan Neely to death on a train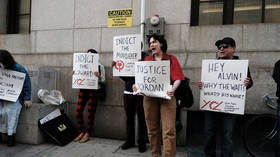 The military veteran filmed choking homeless man Jordan Neely on the floor of a New York City subway car on Monday was only identified by Twitter detectives four days after the incident, fueling public outrage as city authorities are accused of protecting the killer.
Daniel Penny, a former US Marine from Long Island, was questioned by police but not charged even after Neely was declared dead at a Manhattan hospital on Monday. Nor was his name released to the public, despite the city medical examiner ruling his death a homicide by choking on Wednesday, leading activists to accuse the New York Police Department of protecting the 24-year-old veteran.
Several days of internet detective work coupled with a caption blooper by the Daily Mail reportedly yielded Penny's name, which the amateur investigators were able to quickly confirm with a flood of yearbook photos. Some have demanded to know why the New York Post and the Daily News, despite also having Penny's name, did not publish it.
Neely, a Michael Jackson impersonator, had been throwing garbage and yelling at passengers on the train before Penny and several others restrained him, declaring he was hungry, desperate, and "ready to die." While the cameraman who caught the 30-year-old's death on film told the New York Daily News he "didn't seem like he wanted to hurt anyone," police say five bystanders called 911 about him, claiming he was threatening or even attacking passengers.
The slain performer had been arrested 42 times in the last 10 years, most recently for punching a 67-year-old woman in the face in an East Village subway station, and his family lamented that he was unable to get the psychiatric help he needed.
The racial dynamic of the killing – Penny is white, while Neely was black – elicited accusations of "lynching" from Black Lives Matter activists, while racial justice advocate Al Sharpton – referencing 1980s subway vigilante Bernie Goetz – warned against going "back to a place where vigilantism is tolerable." Congresswoman Alexandria Ocasio-Cortez branded Penny a "murderer" and his actions a "public execution," and protests have erupted all over the city.
District Attorney Alvin Bragg has not yet decided whether to send the case to a grand jury and potentially file charges against Penny, law enforcement sources told ABC on Friday, explaining that detectives were still interviewing witnesses.
You can share this story on social media: