EU agrees €1 billion ammo package for Ukraine
The deal includes artillery shells and missiles and comes in addition to a similar delivery agreed by the bloc in April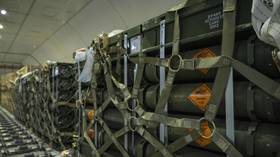 EU members have agreed on a financing mechanism that would entail Ukraine receiving €1 billion worth of ammunition as part of the bloc's assistance plan, the EU Council said in a statement on Friday. The package is expected to include mostly 155-mm-calibre artillery rounds and missiles "if requested."
This comes in addition to another €1 billion worth of ammo the bloc's members agreed to send to Kiev out of its own stocks in April.
"Together with the previous decision to swiftly provide ammunition from existing stocks, we are committing €2 billion to this purpose, bringing the total EU military support to Ukraine to €5.6 billion," the EU's top diplomat, Josep Borrell, said.
The ammunition will be purchased and delivered by EU members, the statement explains, adding that to be reimbursed, procurement contracts or purchase orders will need to be concluded before September 30, 2023. The ammunition must only be purchased from "economic operators established in the EU or Norway," the EU Council said.
The measure comes as part of a multi-part scheme adopted by the Council on March 20, which aimed to provide Ukrainian forces with one million rounds of artillery ammunition within 12 months.
The scheme initially prompted some disagreements among EU member states, with France reportedly demanding compensation for supplies which Kiev never even requested, according to Poland's PAP news agency.
The bloc eventually managed to agree on the "first track" of the plan worth €1 billion on April 13. A week later, the New York Times reported that Western nations were falling short in their efforts to provide Ukraine with the necessary amounts of weapons systems and munitions.
The Times noted that most of the promised German-made Leopard tanks were still being refurbished. The paper said it would take the EU and US industries "years to catch up with the demand" of Kiev, which are "essentially limitless."
Ukraine has also repeatedly criticized its Western backers over the delays and supposed lack of sufficient supplies.
Moscow, meanwhile, has repeatedly warned that "pumping" Kiev with arms and ammunition will only prolong the conflict and risks a dangerous escalation, potentially even a direct confrontation between Russia and NATO.
You can share this story on social media: