China to work with Russia on Ukraine crisis – FM
Beijing is committed to making "tangible contributions" to help end the conflict, the country's top diplomat has said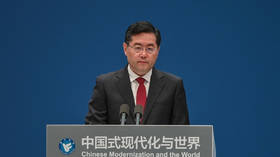 China will work with Russia to bring about peace between Moscow and Kiev, Foreign Minister Qin Gang said on Thursday after meeting with his Russian counterpart, Sergey Lavrov. The diplomats discussed the matter on the sidelines of the Shanghai Cooperation Organization (SCO) foreign ministers summit in Goa, India.
"China will continue to promote peace negotiations and is willing to maintain communications and coordination with Russia in order to make tangible contributions to the political settlement of the crisis," Qin said, according to the Chinese Foreign Ministry.
The Russian Foreign Ministry released a statement saying that the diplomats discussed Ukraine among other "pressing issues." It added that Lavrov and Qin condemn the "modern practices of neocolonialism that have a destructive effect on the development of the majority of countries of the world and on all spheres of international relations."
Chinese President Xi Jinping met with his Russian counterpart, Vladimir Putin, in Moscow in March. Last month, Xi spoke with Ukrainian President Vladimir Zelensky over the phone for the first time since Russia launched its military operation in the neighboring state in February 2022. Following this, Beijing tasked Li Hui, China's special envoy for Eurasian Affairs and former ambassador to Russia, with helping broker peace.
Unlike many countries in the West, China has refused to condemn Russia's actions in Ukraine. Beijing has also backed Moscow's position that NATO's expansion towards Russia's borders played a major role in inciting the conflict.
In February, China unveiled a 12-point roadmap for peace, urging Moscow and Kiev to resume direct negotiations. Putin said in March that many points of the Chinese plan were "in tune" with Russia's position and could serve as basis for a future settlement. Mikhail Podoliak, Zelensky's top adviser, criticized the plan, arguing that it heavily favors Moscow.
Meaningful peace negotiations between Russia and Ukraine broke down in spring 2022. Zelensky has since ruled out negotiations with Putin. Moscow has stated that the terms put forward by Kiev are unacceptable.
You can share this story on social media: