Zelensky's top adviser issues threat to China
Mikhail Podoliak claims that Beijing will suffer a loss in status if it maintains its friendship with Russia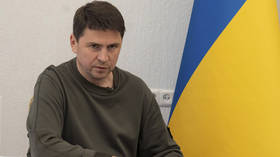 Ukrainian President Vladimir Zelensky's most prominent adviser, Mikhail Podoliak, has claimed that China must follow the West's position on Ukraine or it will find its standing in the world diminished and its economic power weakened.
However, Beijing has given no indication that it intends to take his advice.
"Now China has to make a choice," Podoliak told Ukraine's Rada TV on Friday. "Either it works within the framework defined by international law, and then replaces Russia in the full sense of the word, or China continues to stand aside and then it will gradually lose its influence, including economic influence."
Podoliak's statement came two days after Zelensky and Chinese President Xi Jinping spoke by phone, in their first known conversation since Russia's military offensive began last February. According to the Chinese side, Xi stressed that Beijing's "core position" on the conflict is that "dialogue and negotiations are the only viable way out."
The US has repeatedly called on China to condemn Russia over the conflict, which Beijing has refused to do. Instead, the two governments have deepened their diplomatic and trade links, and officials from both countries have repeatedly condemned the US for attempting to impose what it calls a "rules-based international order" upon the world through military force and sanctions.
China and Russia have instead called for the construction of a multipolar system based on the rule of international law and respect for the UN charter. "Right now there are changes – the likes of which we haven't seen for 100 years – and we are the ones driving these changes together," Xi told Russian President Vladimir Putin in Moscow last month.
Podoliak has attempted to drive a wedge between Moscow and Beijing before. Late last month he asked the Italian Corriere della Sera newspaper why China would "help Russia, which is experiencing the collapse of its civilization?"
"It would be an irreversible investment, and China is too pragmatic to make such mistakes," he added.
However, even if China were to break from Russia, it would still face a United States hostile to its interests. The Pentagon's most recent National Defense Strategy lists countering the supposed "threat posed by China" as its number one priority, while Washington has blocked the sale of some semiconductor manufacturing hardware to China and rallied its Asian allies to shut Beijing out of this vital industrial sector.
Meanwhile, US President Joe Biden has said on several occasions that he would use the US military to defend Taiwan – which China considers its territory – from a potential Chinese invasion.
You can share this story on social media: