Almost half of British Commonwealth wants to ditch monarchy – poll
A survey has indicated that Canada and Australia would vote to become republics if referendums were held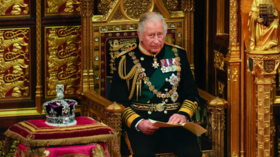 Almost half of the overseas countries in which King Charles III is head of state would vote to become republics if given the opportunity, a new poll has found.
The survey conducted by former Conservative Party deputy chairman Michael Ashcroft suggests that six of the 14 overseas countries within Britain's Commonwealth realm – including Canada and Australia – would prefer to ditch the monarchy.
Among Australian respondents, 42% were in favor of becoming a republic, with 35% opposing the idea. Canada saw a greater disparity, according to Ashcroft's data, with 47% pushing to be a republic and just 23% objecting.
The Bahamas, Jamaica, the Solomon Islands, and Antigua and Barbuda would also vote to remove King Charles as head of state, the poll suggests.
The reasoning for the results appears varied. Some respondents in Caribbean countries cited past colonialism as the motivation for their answers, while elsewhere people said that they believed becoming a republic would bring tangible benefits. Canada was among four countries in which polling supported the view that the monarchy is a "racist and colonialist institution and we should have nothing to do with it."
An Australian respondent told the survey: "Britain is just like a distant memory. If anything, we're just following in the footsteps of whatever the US is doing." A Canadian citizen argued that the monarchy is "no longer real to the modern day."
A separate poll conducted by Ashcroft ahead of Saturday's coronation of King Charles found that support for the monarchy in Britain remains high, but this appears to be in stark contrast to the sentiment beyond the UK's borders.
Of the other countries within the king's realm, almost all of them had only marginal support for the monarchy. These include New Zealand, Belize, and Papua New Guinea. Only two of the 14 countries surveyed – Saint Vincent and the Grenadines and Tuvalu – said that they would overwhelmingly vote to remain British crown subjects.
You can share this story on social media: