UK royal residence targeted ahead of coronation
Police say shotgun cartridges were thrown at Buckingham Palace in a "mental health incident"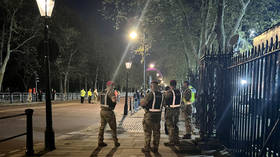 A man who allegedly threw several objects through the gates of Buckingham Palace was detained on Tuesday evening, Scotland Yard has said. The incident comes just days before the coronation of King Charles III.
The individual, who has not been identified, approached the gates of the royal residence around 7pm local time and threw what police say may have been "shotgun shells" onto palace grounds. He was arrested for possession of an offensive weapon.
"Officers worked immediately to detain the man and he has been taken into police custody," Chief Superintendent Joseph McDonald said in a statement. "There have been no reports of any shots fired, or any injuries to officers or members of the public."
According to the state broadcaster BBC, the Metropolitan Police is treating the event as "an isolated mental health incident" and not terrorism-related.
A security cordon was established around the palace while officers carried out a "controlled demolition" of the suspect's "suspicious" bag. The suspected shells were kept as evidence. Most of the roads around the royal residence were reopened within a couple hours.
Neither Charles nor Queen Consort Camilla were inside the palace at the time of the incident. The royal family did not issue an official comment.
British security services are on high alert ahead of Saturday's coronation ceremony, expected to be attended by numerous heads of state and high government officials. Charles succeeded to the throne last September, after the death of his mother Queen Elizabeth II, the longest-reigning British monarch.
The elaborate ceremony will feature centuries-old traditions, including a loyalty oath that the Archbishop of Canterbury urged the general public to swear alongside the British peers.
You can share this story on social media: