Biden set to skip coronation of King Charles – Telegraph
Foreign travel "takes a fair amount out of" the 80-year-old US president, the newspaper's source says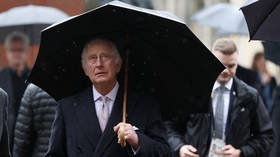 US President Joe Biden will likely miss out on the coronation of Britain's King Charles III, The Telegraph reported on Friday.
According to a "source close to the Biden administration" quoted by the newspaper, "foreign travel takes a fair amount out of" the 80-year-old US leader.
He added that Washington was trying to restrict Biden's foreign trips "to the essentials, and they may just think twice about crossing the Atlantic twice in quick succession," referring to the president's upcoming visit to Northern Ireland.
However, Washington wants to avoid the perception of a snub to the UK, and still intends to dispatch a high-level delegation to the ceremony, which could include First Lady Jill Biden, the report says. One Telegraph source also indicated that there "may still be some efforts under way to see if Biden can be persuaded to come to the coronation," with another confirming that the White House had not made a final decision yet.
Karen Pierce, the British ambassador to the US, and Buckingham Palace have had a "cordial and diplomatic" conversation with Washington on the matter, the report says.
UK officials have reportedly been told that the US president already has other commitments. Commenting on the White House's stance on the coronation, a Telegraph source noted that "they may think that he came to the [Queen's] funeral, and that's kind of enough."
However, Biden could meet Charles III on April 11 during his planned trip to Northern Ireland to celebrate the 25th anniversary of the Good Friday Agreement, a landmark accord that largely put an end to political violence between nationalists and unionists.
The coronation is scheduled for May 6, eight months after Queen Elizabeth II, the longest reigning British monarch to date, passed away. The ceremony, which will take place in Westminster Abbey in London, is expected to be attended by some 2,000 people, including dozens of heads of state.
You can share this story on social media: