US military helicopters crash in Alaska
The incident marks the second serious mishap this year involving Apache gunships in the northern US state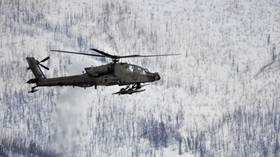 Two US Army AH-64 Apache helicopters have crashed in Alaska following a training mission, Pentagon officials say, adding that the aircraft carried two soldiers each. An investigation has been launched to determine the cause of the incident.
The helicopters crashed near the town of Healy in central Alaska on Thursday, about 80 miles southwest of their base at Fort Wainwright, according to the US Army's 11th Airborne Division.
"First responders are on the scene. The incident is under investigation and more information about the incident will be released when it becomes available," the division said in a tweet.
Military spokesman John Pennell later added that a total of four people were aboard the aircraft, though he offered no details about their status or whether there were injuries. The AH-64 gunship typically carries a crew of two – a pilot and a gunner.
The incident is not the first involving an Apache this year, with another helicopter crash injuring two soldiers from the Army's 25th Attack Battalion in February, also in Alaska. The accident occurred as the aircraft was taking off and resulted in damage to the helicopter, with the military saying it had not determined whether it could be salvaged at the time.
A more serious wreck near Fort Campbell in Kentucky also left nine soldiers dead last month, after two HH-60 Black Hawks collided in midair during what officials called a "routine training mission." All of the troops were assigned to the 101st Airborne Division, and were said to have crashed while using night-vision and flying in a two-helicopter formation. The cause of the accident is still under investigation, with flight recorders recovered from the aircraft and sent for further analysis by military specialists earlier this month.
You can share this story on social media: