Erdogan hails Türkiye joining nuclear club
The country's first atomic power plant received a shipment of fuel from Russia on Thursday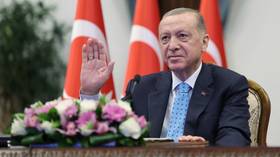 Turkish President Recep Tayyip Erdogan has announced his country's entry into the ranks of nuclear-powered nations, after the first delivery of fuel to the Akkuyu power plant on Thursday. The facility is Türkiye's largest joint project with Russia.
"With the delivery of nuclear fuels by air and sea to our power plant, Akkuyu has now gained the status of a nuclear plant," Erdogan proclaimed during a ceremony that he and Russian President Vladimir Putin attended remotely.
Noting that there are 422 nuclear reactors in operation in the world and 57 under construction, Erdogan praised "how meticulously our engineers and workers" labored to complete the $20 billion, 4,800 megawatt plant, which survived a pair of devastating earthquakes in February without sustaining any damage.
The plant is "our biggest joint investment with Russia," Erdogan stated, adding that it will be scaled up to full operation by 2028. By then, it will supply 10% of the country's energy needs, lessening Türkiye's reliance on imported fossil fuels.
"Based on our experience in this project, we will take action as soon as possible for our second and third nuclear power plants, which we plan to construct in different regions," Erdogan said.
Construction on the Akkuyu project began in 2018, with work carried out by a subsidiary of Russia's state nuclear energy firm, Rosatom. Approximately 30,000 people were employed on the site during the busiest phases of its construction.
Speaking at Thursday's ceremony, Putin praised Erdogan for paying "great attention to the expansion of Russian-Turkish relations." Unlike the rest of its NATO allies, Türkiye did not impose sanctions on Russia after Moscow launched its military operation in Ukraine last year. Instead, Moscow and Ankara increased their bilateral trade, and agreed last August that Türkiye would purchase natural gas from Russia in rubles.
Putin and Erdogan have met several times since the conflict in Ukraine began. Prior to Thursday's ceremony, the two leaders also held a phone conversation in which they discussed the Ukraine conflict, the grain deal between Moscow and Kiev brokered by the UN and Ankara, as well as developments in Syria and other "regional issues," the Turkish president's administration said.
You can share this story on social media: