Erdogan makes appearance after health issues
The Turkish leader has taken part remotely in a ceremony held at the country's new Akkuyu nuclear power plant along with Russian President Vladimir Putin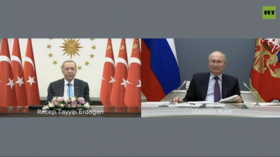 Turkish President Recep Tayyip Erdogan has made his first appearance following speculation about his health earlier this week. He took part in a fuel delivery ceremony at the nation's Akkuyu nuclear power plant, along with Russian President Vladimir Putin. Both men appeared by video link.
On Tuesday, Erdogan cut short a live interview due to a health problem. The president also cancelled his busy schedule linked to the upcoming presidential election on May 14. The news sparked a flurry of reports about the president's condition, with some media claiming he had suffered a heart attack.
Erdogan's communications chief, Fahrettin Altun, brushed aside the conjecture on Thursday, saying that the Turkish leader was "on duty with great strength, health, and vigor." He also blasted the rumors about Erdogan's health as "baseless distortions." Turkish Health Minister Fahrettin Koca told the media the president had stomach flu but was "in good health" and that his symptoms had improved.
Both Erdogan and Putin remotely observed the fuel delivery on Thursday to Türkiye's first nuclear power plant. The two leaders also held a phone conversation before the ceremony, where they discussed the conflict in Ukraine, the grain deal between Moscow and Kiev brokered by the UN and Ankara, as well as developments in Syria and other "regional issues," the Turkish president's administration said.
Erdogan thanked Putin for his contribution to the Akkuyu nuclear project while the Russian leader conveyed his best wishes to his Turkish counterpart, Ankara stated.
During the ceremony, Putin congratulated Türkiye on launching the Akkuyu plant and said that Russian specialists had outfitted it with the "most advanced and safest equipment in the world." He also announced Russia would launch a gas trade hub in Türkiye, which would also be used to sell gas to third countries.
Ankara is also preparing to received a shipment of construction materials from Moscow as part of relief efforts in the wake of a powerful earthquake that struck in February.
Erdogan announced that all four nuclear reactors at the Akkuyu plant would be launched by 2028. He also thanked Russia and Putin for their participation, which he called the biggest joint investment project of the two nations to date.
Following the arrival of the first nuclear fuel supplies, the Akkuyu power plant has been granted the status of a nuclear facility, Turkish Energy Minister Fatih Doenmez told journalists. The station was built by Russia's Rosatom state nuclear corporation under an agreement Moscow and Ankara struck back in 2010. Once fully operational, the plant will have a total energy output capacity of 4,800 megawatts.
You can share this story on social media: