Erdogan cancels trips for health reasons
The Turkish president also had to cut short a TV interview on Tuesday, citing stomach problems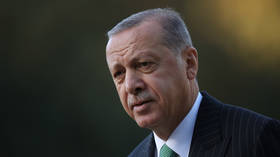 Turkish President Recep Tayyip Erdogan was forced to cancel scheduled trips to several cities on Wednesday, citing doctors' advice. This comes after he cut short a TV interview on Tuesday due to what he said were stomach problems.
"I would like to thank each and every member of my noble nation, each of my brothers and sisters, who conveyed their wishes and prayers for the minor inconvenience I had during the broadcast due to my busy work," Erdogan wrote on Twitter on Wednesday. "Today I will rest at home on the advice of our doctors." He also stated that he was not able to participate in events scheduled to be held in three cities on Wednesday, saying that Vice President Fuat Oktay would be there instead. Erdogan promised to return to his normal schedule on Thursday.
While speaking on Erdogan's behalf in the city of Kirikkale, Oktay explained that the president "only had to take a short break in order to be able to work much faster, more dynamically, more enthusiastically tomorrow, to work tirelessly and tirelessly."
On Tuesday, Erdogan had to leave an interview being held jointly with Ulke TV and Kanal 7 shortly after it started. When he returned, he said that he was feeling bad due to stomach problems and apologized for having to cancel the program.
Türkiye will hold general elections on May 14. Erdogan, who has been in power since 2003, first as prime minister and later as president starting in 2014, is seeking to secure a third term. He is opposed by Kemal Kilicdaroglu, who was selected by a broad alliance of six opposition parties.
You can share this story on social media: