Taliban kills Kabul airport bomb plotter – Washington
US forces were not involved in the operation, the Pentagon has said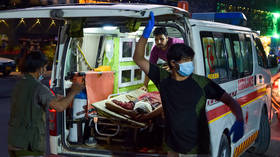 The Taliban has killed the militant responsible for a deadly 2021 suicide bombing at Kabul International Airport, the White House and the Pentagon said on Tuesday. The attack, carried out during the US and allies' troops withdrawal from Afghanistan, claimed the lives of more than 180 people, including 13 US service members.
Officials said the terrorist, whose name has not been disclosed, belonged to Islamic State – Khorasan Province (ISIS-K), an offshoot of Islamic State (IS, formerly ISIS/ISIL) that is in conflict with the Taliban.
"He was a key ISIS-K official directly involved in plotting operations like Abbey Gate," said John Kirby, a spokesman for the National Security Council, referring to the airport's entrance where the blast occurred.
Pentagon spokesman Brigadier General Patrick Ryder told news organizations that the militant was killed earlier this month and that the US "was not involved in this operation." The Taliban has so far not reacted to the claims regarding the killing of the high-profile ISIS-K member.
The New York Times cited four US officials as saying that intelligence analysts first became aware of the ISIS-K operative's death in early April. According to the Times, they likely gathered data from sources, such as informants and electronic intercepts, and concluded with "high confidence" that the mastermind behind the 2021 attack had been killed.
However, the White House "developed confidence in its assessment only in the last few days," two officials said, as quoted by the Washington Post.
Darin Hoover, the father of one of the slain service members, spoke to several media outlets, criticizing the White House for not sharing enough details, including the terrorist's name. He told CNN that news of the attacker's death "doesn't absolve the administration or the State Department or the Pentagon from taking responsibility or accountability for what happened."
The bombing occurred on August 26, 2021 when US personnel were overseeing the chaotic evacuation of Washington's Afghan helpers during the last stage of the withdrawal of US forces from the country.
The US retaliated with a drone strike in Kabul on August 29, 2021, which they claimed at the time had targeted ISIS-K. The Pentagon admitted next month that the strike was a "tragic mistake" that only killed 10 civilians.
The US invaded Afghanistan in 2001 to fight the Taliban and other Islamist groups in the wake of the 9/11 terrorist attacks on American soil. The US and allied troops completely left in August 2021, after which the Taliban re-established control over Afghanistan.
You can share this story on social media: