Serbia threatens retaliation against Ukraine
Belgrade was 'unpleasantly surprised' by Kiev's vote on Kosovo at the Council of Europe, Serbian FM Ivica Dacic says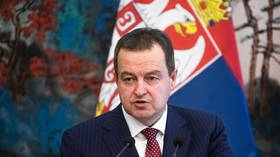 Serbia may change its stance on Ukraine's territorial integrity after Kiev abstained during a vote on accepting the breakaway region of Kosovo's request to join the Council of Europe, Serbian Foreign Minister Ivica Dacic has said.
The Ministerial Committee of the Council of Europe held an extraordinary meeting on Tuesday to decide the fate of Kosovo's application. The bid was supported by 33 members out of 46, with seven against, and five abstaining.
"I must say that Ukraine has surprised us unpleasantly" by being among the abstaining members, Dacic said shortly after the vote.
"This whole story is based on territorial integrity when it comes to [the conflict in] Ukraine. You know how much effort it takes for [Serbia] to vote for all the resolutions, to condemn the violation of territorial integrity of Ukraine," he said.
The diplomat pointed out that "foreign policy is based on reciprocity. This will certainly affect our views in the future on territorial integrity of those countries," he said, referring to Ukraine, Bosnia and Herzegovina, Greece, Slovakia and Armenia as some of the nations whose votes surprised him.
Serbia, which has close ties with Russia, has been resisting Western pressure to sanction Moscow over the conflict in Ukraine. However, it has condemned the use of force by Moscow and insisted that the territorial integrity of the Ukrainian state should be respected.
The majority ethnic Albanian region of Kosovo unilaterally declared independence from Serbia back in 2008. The US and many of its allies recognized the province as a sovereign state almost immediately. However, Belgrade considers Kosovo to be part of its territory and the region is not recognized by Russia, China and several other nations.
Pristina's Foreign Minister Donika Gervalla-Schwarz hailed the vote as "a historic step, perhaps the most important after our independence." The final verdict on the bid by Pristina is to be delivered by the Parliamentary Assembly of the Council of Europe.
Dacic condemned the development, warning that it may well lead to a situation where "a part of some other country is going to be offered to join the Council of Europe."
You can share this story on social media: