Russia lists obstacles to moving UN from New York
Moscow would like to see the organization's HQ relocated to Switzerland or Austria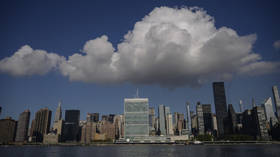 UN member states are against the idea of moving the organization's headquarters out of New York City mainly due to financial limitations, according to Pyotr Ilyichev, a high-ranking official at the Russian Foreign Ministry.
"[Russia] would, of course, like to relocate [the UN HQ] to some other more neutral spot, like Geneva or Vienna, but many member states don't want to leave New York," Ilyichev, who heads the Department of International Organizations at the ministry, said on Monday.
According to the diplomat, there are "a lot of reasons" why national governments are reluctant to leave the largest city in the US, with one of them being that "they have real estate there. It's hard for them to sustain two [UN] missions, so they have everything situated in New York. Those are more of the financial and economic reflections."
Russia is "thinking" about moving the UN headquarters out of New York, where it has been located since the formation of the global body in 1951, he said. "The Austrians and the Swiss are more neutral" compared to the Americans, Ilyichev stated.
Besides its New York-based headquarters, the UN also has offices in Geneva, Vienna, and Kenyan capital Nairobi.
A Russian delegation headed by Foreign Minister Sergey Lavrov had difficulties with obtaining US visas to attend UN Security Council (UNSC) meetings in New York on Monday and Tuesday. The country's journalists were denied permits to enter the US by the American authorities altogether, without any explanation.
Lavrov argued that such behavior by the US isn't worthy of a UN host nation. The Americans have just "chickened out," he suggested, while promising that the move won't be left unanswered by Moscow.
Russia, which currently holds the presidency of the UNSC, had planned some "major newsbreak events" in New York this week and barring the pool of the country's reporters from participating was completely unacceptable, Russian Deputy Foreign Minister Sergey Ryabkov said.
When asked about the possibility of relocating the UN headquarters to another country on Monday, Kremlin press secretary Dmitry Peskov replied that it was "an issue of additional thinking, additional analysts."
You can share this story on social media: