Russia warns US it will respond to journalist visa blocks
Moscow has vowed to come up with a response for Washington "to remember" following the impediments placed on media workers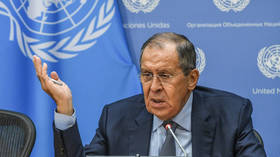 The US has failed to grant visas to accredited journalists from the media pool traveling with Russian Foreign Minister Sergey Lavrov, Moscow announced on Sunday. Lavrov and his delegation are scheduled to take part in UN Security Council meetings in New York City next week, with Russia currently holding the rotating presidency of the UNSC.
The top Russian diplomat blasted the withholding of visas as "stupid," exposing the true worth of Washington's "oaths about protecting freedom of speech, about access to information, and so on."
"Of course, I understood how notorious our American colleagues are for such things but I was sure that, this time, given the attention that was drawn to their ugly behavior, everything would be different. But I was wrong," Lavrov told reporters.
Russia's Deputy Foreign Minister Sergey Ryabkov revealed that the US had been "pretending" until the very last moment that it was trying to sort out the visa issue. Now, Moscow is compelled to respond to the fresh hostile move, he warned.
"It's yet another proof that not only should our colleagues in Washington not be trusted, but also not-listened-to altogether," Ryabkov stated. "I stress, we will find ways to respond, to make Americans remember that things should not be done in such a fashion. And they will remember."
Lavrov is set to preside at two UNSC meetings this week, meet with UN Secretary-General Antonio Guterres, and to hold other bilateral meetings in New York. The diplomatic activities are set to become "major newsbreak events" and barring the pool reporters from participating is completely unacceptable, Ryabkov said.
Russia assumed the rotating presidency of the Security Council on April 1, amid the ongoing standoff with the collective West over Moscow's special military operation in Ukraine. The UNSC presidency has been riddled with assorted issues, with the American side also delaying granting permission for the arrival of Lavrov's plane. The pool journalists traveling with the Russian delegation were supposed to have a visa appointment as early as March 31 yet these meetings were canceled, Anatoly Antonov, Russia's ambassador to Washington, revealed last week.
The Russian Foreign Minister and multiple other senior officials were subjected to US sanctions last year over the Ukraine conflict. At the same time, as the host-nation of the UN headquarters, Washington has obligations not to hamper with the work of its diplomats and foreign dignitaries, or with that of accredited journalists, whatever the circumstances.
You can share this story on social media: