Poland slams German stance on Ukraine's NATO bid
Berlin, Paris and other Western European capitals have always been against Kiev joining the bloc, Warsaw insists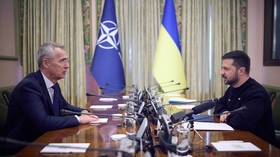 The ongoing conflict between Russia and Ukraine could have been avoided altogether if Germany hadn't tried to delay Kiev's membership of NATO, Polish Deputy Foreign Minister Piotr Wawrzyk has claimed.
"It's known that France, Germany, and countries in Western Europe, in general, have always been against Ukraine joining either the EU or NATO," Wawrzyk told Polskie Radio on Sunday.
Recent comments by German Defense Minister Boris Pistorius were a sign that Berlin's opinion is unlikely to change, the diplomat insisted.
Pistorius suggested on Thursday that "this is not the time to decide" about Ukraine's place in NATO. The bloc's members should consider this issue "with a cool head and a hot heart. Not the other way around," he said.
"The question is when will the time for those 'cool heads' arrive? Five, ten or 30 years after the war [in Ukraine]?" Wawrzyk asked.
"If Germany... had not tried to delay Ukraine's accession into NATO, if Ukraine had received an invitation to join the alliance many years ago in Munich, there wouldn't have been a war in Ukraine today," he claimed.
Warsaw, which has been among Kiev's main backers in the EU during the conflict, is "constantly trying to convince the Western partners to change their minds and for Ukraine to join the alliance as soon as possible," the deputy foreign minister said.
"In our opinion, the sooner this happens, the better, because it'll be a guarantee of security not only for Ukraine and Poland, but also for the entire region," he said.
Russia, which considers NATO's eastward expansion a major security threat, had singled out the need to prevent Ukraine from joining the US-led bloc among the main reasons for its military operation in its neighboring country more than a year ago.
NATO Secretary General Jens Stoltenberg claimed during his visit to Kiev last week that "all NATO allies have agreed that Ukraine will become a member," but didn't specify when exactly it would happen.
Kremlin Press Secretary Dmitry Peskov reacted to Stoltenberg's statement by saying "NATO's continued line of absorbing and drawing Ukraine" into the bloc was further proof that Moscow's decision to launch its military operation was the right one.
You can share this story on social media: