Germany okays Ukrainian strikes on Russian soil
Defense Minister Boris Pistorius has argued that such attacks are "fully normal" as long as the civilian population is not affected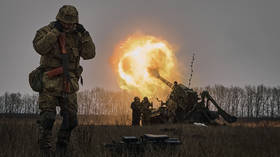 Ukraine has every right to conduct strikes and other military operations on Russian territory, German Defense Minister Boris Pistorius has argued. He noted, however, that civilians should not be hurt in the process.
Ukraine has regularly shelled several Russian border regions ever since Moscow launched its military campaign last February. Dozens of civilians have lost their lives as a result, with many more injured.
Appearing on Germany's ZDF TV channel on Thursday, Pistorius said that it is "fully normal" that the "attacked [party] also moves into enemy territory, for instance to cut supply routes."
"So long as cities, civilians, civilian areas are not attacked, you will unavoidably have to accept this," the minister clarified.
However, Pistorius said that the West should not simply automatically rubber-stamp any weapons request by Kiev.
"If Ukraine asks for certain types of bombs that are outlawed globally, then we must say no," the minister stressed.
Speaking about Kiev's chances of joining NATO, the German official said that "this is now not the time to decide this." Ukraine and NATO should for the time being prioritize "repelling this attack," Pistorius insisted. Should these efforts prove successful, the US-led military bloc will have to "carefully weigh" this step, the minister said.
Pistorius went on to point out that NATO cannot admit Ukraine into its ranks purely "out of solidarity," but should rather "decide with a cold head and hot heart, and not the other way round."
Russian border regions – particularly those of Belgorod, Kursk and Bryansk – have repeatedly come under Ukrainian attacks over the past year. Kiev's forces have used explosive-laden drones, mortars, artillery, and missiles in these strikes.
The toll taken on Belgorod Region in particular has been significant. Earlier this week, the region's governor, Vyacheslav Gladkov, revealed that a total of thirty civilians in his region have been killed in Ukrainian attacks since February 2022, with 123 more people sustaining injuries. More than 3,000 homes have also been either destroyed or damaged, the official said. Dozens of schools and power facilities have also been hit.
Furthermore, the Donetsk People's Republic, which joined Russia after a referendum last fall, has been subjected to regular shelling by the Ukrainian military since 2014. The attacks appear to be largely indiscriminate, with scores of civilians having lost their lives as result.
You can share this story on social media: