Slain 'Cop City' activist didn't shoot first, autopsy suggests
Police had claimed the protester nicknamed 'Tortuguita' fired first before being killed by six officers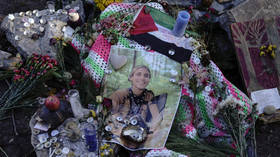 Manuel Esteban Paez Teran, the activist killed by Georgia State Patrol officers during a "clearing operation" targeting protesters camped out on the site of Atlanta's hotly-contested 'Cop City' public safety training center, died from 57 bullet wounds and did not fire a weapon, according to an autopsy report from the DeKalb County Medical Examiner's Office released on Wednesday.
The protester, known as Tortuguita, was shot in the head, chest, legs, and hands, with some bullets leaving multiple holes and others remaining in the body. A total of 14 bullets and fragments were recovered.
The autopsy results contradict multiple use of force reports submitted by police, who claimed Teran fired a weapon at a state trooper when police tried to remove the 26-year-old from a tent during the January 18 raid. Teran, they said, refused to leave before the officers fired pepper ball grenades into the area, then supposedly opened fire, hitting a cop in the abdomen and triggering return fire from six officers.
While the Smith & Wesson handgun that wounded the officer was allegedly purchased by Teran in 2020, the absence of gunpowder residue on the activist's hands, clothes, or any other body part indicates that Teran did not actually fire the weapon. Documents supposedly tying the weapon to Teran have not been made public.
"We were devastated to learn that our child, sweet Manny, was mercilessly gunned down by police and suffered 57 bullet wounds all over their body," the activist's mother, Belkis Teran, said in a press release on Wednesday.
A private autopsy paid for by the family proved inconclusive, as the body had already been thoroughly dissected by the county in order to remove over a dozen bullet fragments. That examination showed Teran had been shot 13 times and died with hands raised, though the reason for the pose was not clear.
No body camera footage exists of the shooting. While Georgia state troopers do not wear body cameras, several other law enforcement agencies were involved in the raid, and some activists have argued that footage released from Atlanta Police Department bodycams points to the officer Teran supposedly shot having been the victim of "friendly fire."
The Atlanta Police Foundation's efforts to construct a $90 million training facility – dubbed 'Cop City' – on a city-owned woodland have triggered vociferous opposition from locals, with protest actions including occupying the site continuing for years. Even before Teran's killing, the authorities' decision to charge dozens of protesters with domestic terrorism has proven controversial.
You can share this story on social media: