Iranian navy claims it forced US submarine to surface
The USS Florida was attempting to sail undetected through the Strait of Hormuz, according to Tehran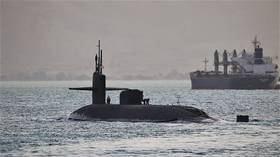 The Iranian navy intercepted a US submarine in the Strait of Hormuz and forced it to surface and change its course, Rear Admiral Shahram Irani told reporters on Thursday. However, the US has denied the claim.
According to Irani, the nuclear-powered USS Florida was approaching the strait in complete silence when it was detected by an Iranian Fateh-class diesel-electric submarine. The Iranian vessel "forced this American submarine to come to the surface and cross the Strait of Hormuz on the surface of the water," Irani said, according to Iran's ISNA news agency.
Irani added that the US submarine attempted to enter Iranian waters, but changed its course following a warning from the Fateh. The admiral called on the US to explain why the Florida attempted to violate Iran's borders, and declared that American vessels "must observe all international rules from now on."
The US denies that the encounter ever took place. "A US submarine has not transited the Strait of Hormuz today or recently," the commander of the US Fifth Fleet, Timothy Hawkins, told Reuters. "The claim represents more Iranian disinformation that does not contribute to regional maritime security and stability," Hawkins added.
However, the US navy did say earlier this month that the USS Florida was en route to the Middle East to patrol with the Fifth Fleet. The navy rarely announces such maneuvers, but likely made the Florida's journey public to deter Iran from targeting Israeli-owned vessels in the Persian Gulf, as US and Israeli officials claimed Tehran was preparing to do.
The US navy also announced on Thursday that it had sent an unmanned surface vessel through the strait the previous day, accompanied by two US Coast Guard Sentinel-class cutters.
Thursday's alleged encounter comes less than three weeks after the Iranian navy reportedly turned back a US spy plane on the edge of its airspace. Both encounters took place amid heightened tensions in the region, with Tehran blaming Israel for a drone attack on its military infrastructure in January and another at the beginning of this month.
You can share this story on social media: