Drone attack on Iranian military facility foiled – media
The UAV was shot down in the centrally located Isfahan province on Tuesday, Tasnim has reported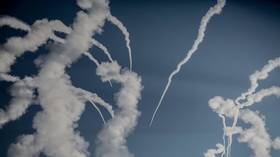 Iranian air defenses downed a drone that was approaching a military compound in Isfahan province on Tuesday night, the news agency Tasnim has reported. The facility did not suffer any damage as a result of the attack, according to the outlet.
The incident occurred in the same province as the January 28 drone strike on a military "workshop" in the city of Isfahan, the capital of the eponymous province. In February, the Iranian authorities revealed having arrested the individuals suspected of being behind that strike. Officials in Tehran claimed that the alleged culprits of the January strike were acting on orders from Israel.
In a joint statement, Iran's Ministry of Intelligence and the Islamic Revolutionary Guard Corps (IRGC), an influential branch of Tehran's armed forces, warned the Jewish state that it would receive a "lesson to remember."
On the day after the January attack, the Wall Street Journal, citing anonymous US officials and other "people familiar with the operation," also alleged that Israel was behind the act of sabotage.
Three explosives-laden drones had reportedly approached the military facility. According to the Iranian Defense Ministry, one of the UAVs was shot down by air defenses, while the other two crashed into a protective mesh above the complex.
Iran's state-run IRNA media outlet quoted defense officials at the time as saying that "this unsuccessful attack did not cause any loss of life and caused minor damage to the workshop's roof."
In keeping with Israel's usual policy of silence about such operations, Prime Minister Benjamin Netanyahu neither confirmed nor denied responsibility for the attack.
You can share this story on social media: