JFK's nephew announces 2024 US presidential bid
The son of former attorney general Robert Kennedy is seeking the Democrat Party nomination in a challenge to president Joe Biden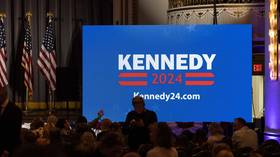 Robert Francis Kennedy Junior officially launched his 2024 presidential campaign on Wednesday, addressing a crowd in Boston, Massachusetts. The 69-year-old is the nephew of US president John Fitzgerald Kennedy, who was assassinated in 1963.
RFK Jr. is challenging the incumbent Democrat Joe Biden on a platform of "clean government, civil liberties, peace, and economic revitalization," according to his campaign.
In the announcement speech, Kennedy vowed to "make as many Americans as possible forget that they are Republicans or Democrats and remember that they are Americans," arguing that people "need to focus on the values we share instead of the issues that divide us."
Kennedy also lashed out at the censorship of dissidents as "not only antithetical to our most fundamental values, it is counterproductive in that it fuels the flames of polarization, alienation, and anger." He added that the "blizzard of misinformation" in America will only end when the government and the media start telling the truth.
In some of the excerpts from his speech posted on Twitter, Kennedy said that many Americans believe their republic has been subverted by "a new brand of corporate feudalism, or a corporate kleptocracy."
The US doesn't have fair market capitalism but "corporate crony capitalism, where the rules are written by billionaires and incumbents and large corporations, to stack the deck against the middle class," he said.
Kennedy also objected to government rules that force Americans to "privatize the commons" and get ahead by "poisoning each other and hurting each other."
Without naming former president Donald Trump, Kennedy brought up his campaign pledge to "drain the swamp" in Washington. Many politicians earnestly want to do so, he said, but "become paralyzed" once they get into office and fail because "they don't understand the agencies."
Kennedy was nine when his uncle, the 35th US president, was assassinated in Texas. Five years later, his father Robert – JFK's attorney general and later a US senator – was fatally shot during the 1968 presidential primaries. His assassin, Sirhan Sirhan, is now 78 and still in prison.
While his surviving uncle Ted pursued a political career in the Senate, RFK Jr. became an environmental lawyer, activist, best-selling author and radio host. He has also been an outspoken critic of aggressive child vaccinations, which got him accused of "anti-vaccine misinformation" by US health authorities and censored during the Covid-19 pandemic.
You can share this story on social media: