Robert Kennedy assassin denied parole for 16th time
Sirhan Sirhan's lawyer blames the decision on the California governor's influence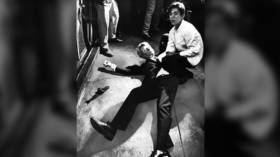 A California parole board panel refused to release Sirhan Sirhan, the man who killed Robert F. Kennedy in 1968, his lawyer said on Wednesday. The board argued that the assassin still lacked an awareness of what he had done.
The 78-year-old prisoner was previously recommended for parole two years ago by a different board. However, in January 2022, California Governor Gavin Newsom rejected the suggestion that Sirhan be freed. The politician called Kennedy a personal hero and wrote an LA Times op-ed explaining his decision.
Newsom claimed that Sirhan "refuses to accept responsibility" for what he did and has not "developed the accountability and insight" that would allow his release. He argues that the killer initially admitted to the crime, but in 2016 he said he "believed he did not kill Kennedy, based on what he had read in his attorney's legal briefs."
The governor added that Sirhan remains a "potent symbol of political violence" even decades after the murder.
Sirhan's lawyer Angela Berry argued that Newsom's words from back then affected the board hearing on Wednesday. "I do feel the board bent to the political whim of the governor," she said, as quoted by AP. Berry insists that her client has obtained insight into the deed and that his psychiatrists agree that he does not present a danger to society.
Robert F. Kennedy, a New York senator and brother of assassinated US President John F. Kennedy, was shot in 1968. The crime occurred at the Ambassador Hotel in Los Angeles moments after the politician won California's Democratic presidential primary. Sirhan opened fire from a crowd, killing Kennedy and wounding five others. He claimed that he was motivated by strong anti-Zionist and pro-Palestinian beliefs. Sirhan was sentenced to life in prison and his request for parole has now been denied 16 times.
You can share this story on social media: