Poland proposes 'HIMARS academy'
The artillery school for US rocket launchers would be modeled on an Abrams tank training facility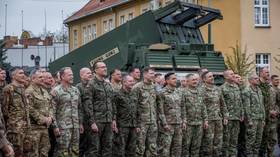 Warsaw wants to host a NATO artillery school that would train all US allies in Europe in the use of HIMARS rocket artillery, Polish Defense Minister Mariusz Blaszczak said on Tuesday.
"We want Himars Academy to be established in Poland, where training on the use of this artillery system will take place," Blaszczak tweeted. He added that the details of the project would be discussed at the European Rocket Artillery Summit, which began earlier in the day in Torun, home to the Polish Artillery Museum.
The conference aims to "increase interoperability of rocket artillery and sustainment of long range fires systems," according to the US Army's V Corps and the 4th Infantry Division, which are organizing the event.
The proposed academy would train Polish and presumably other NATO soldiers in operating the Lockheed Martin-made rocket launchers. According to Polish media, it would also bolster the country's economy by training local technicians and engineers. A similar "academy" for training Polish soldiers on the US-made M1 Abrams tanks was opened last summer near Poznan.
Warsaw signed a $414 million contract for 18 combat and two training launchers back in 2019, long before the Ukraine conflict escalated. Those launchers are expected to arrive by the end of this year. In February, the US government approved the sale of another 484 launchers, valued at $10 billion, with a delivery date to be determined.
Around the same time, the commander of the US Army's V Corps, deployed in Eastern Europe, revealed the idea of the artillery academy. "We're still in the preliminary stages here, but it would be an area that we would maybe pull in several countries to one location," Lieutenant General John Kolasheski told Voice of America in February. Kolasheski also brought up Poland's Abrams academy as a blueprint for the project.
The Polish government has eagerly turned the country into a NATO logistics hub for supplying weapons, ammunition and supplies to Ukraine. The US-led bloc has funneled billions of dollars to Kiev, while insisting it was not in direct conflict with Russia.
Visiting the US earlier this month, Polish Prime Minister Mateusz Morawiecki said his country wanted to "build the strongest army in Europe," and once again called for a permanent US military presence in Poland.
Morawiecki also made a pitch for a "service center" for Abrams tanks, and even a factory for the controversial depleted uranium ammunition. The dense metal, used by the US and UK for armor-penetrating tank rounds, is highly toxic when inhaled and has been suspected of causing cancer in places such as Iraq and the former Yugoslavia.
You can share this story on social media: