Germany wants Russia's nuclear industry sanctioned
However, such a move would face pushback from Hungary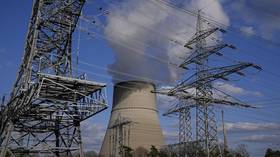 Germany's economy ministry said on Monday that it has asked the European Commission to impose sanctions on Russia's nuclear energy sector. With its members divided on the idea, the EU has thus far refrained from including nuclear fuels in its sanctions packages.
"The federal government spoke to the European Commission in favour of including the civilian nuclear sector" in the bloc's next sanctions package, the ministry said in a statement, adding that the EU should not "shy away from decisive action in this area."
Germany shut down its last three nuclear power stations on Saturday, defying calls to extend their operation amid soaring energy costs.
Less than a day later, Five members of the G7 group – the US, UK, Canada, Japan and France – announced that they would develop supply chains for nuclear fuel that exclude Russia, in a bid to force the country out of the international nuclear energy market.
Russia is one of the world's largest uranium producers and supplied the EU with around 20% of its imported uranium in 2020. Kazakhstan, meanwhile, accounted for 23% and Niger 24%, according to data compiled by Friends of the Earth Germany.
Neither the EU nor the US have sanctioned Russia's civilian nuclear sector since Moscow launched its military operation in Ukraine last February. The EU has imposed ten packages of economic sanctions, including ones targeting Russian oil and gas, but obtaining the unanimous consent from its members to pass an eleventh package could prove difficult, with Hungary vowing to oppose such a measure.
Hungary purchases uranium from Russia, and energy authorities there are currently working with Russian state nuclear energy firm Rosatom to expand the country's sole nuclear power plant. Budapest has repeatedly argued that previous sanctions have failed to meaningfully weaken Russia, while damaging the European economy, and Orban's government insists that Russian nuclear fuel is vital to Hungary's energy security.
France also cooperates extensively with Rosatom, though its position on sanctioning the company is unclear. In a post to Twitter on Saturday, Sven Giegold, a state secretary in the German finance ministry, said that Berlin will "try to convince" Paris to follow its lead and cut itself off from Russian uranium.
You can share this story on social media: